"a pistol pointed at mount everest"
by
108
;09072010;2009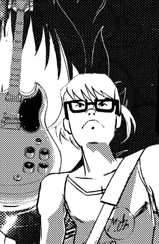 My old friend made a new friend. I recognized my old friend's new friend as a psychopath the first time I met him. My friend went to lots of bars and clubs in the city and all-night DJ events out in the sticks with this guy. They hit on lots of girls. They picked up girls every once in a while. The new guy was an attractive, young guy; he surfed, on the weekends (in the summer). He was about as tanned as a cheap coffee table. He wasn't even thirty and he wore a tennis bracelet and carried a Louis Vuitton clutch. The guy was a sleaze, to be sure.
He gestured a lot. He could not stop and ask a girl directions to the nearest convenient store without touching his gold watch and then placing his hand on the small of her back. My friend wasn't convinced that the guy was also a psychopath. He kept telling me the guy was a nice guy: the evidence was that he had a real job at a bank and he made a lot of money. This meant that somebody with money at a place that dealt with money trusted this guy enough to pay him lots of money.
"I don't see why you don't like him," my friend said, after he'd first introduced us and I'd dismissed him as a psychopath, or at least a carrier of a psychopath learner's permit. "He likes
Dragon Quest
as much as you do. He's played every one of them — beaten all of the optional dungeons, gotten every character in every game up to level ninety-nine."
"Then he's a psychopath and a video-kleptomaniac, then."
"Come on — he killed God in
Dragon Quest VII
. I thought you respected people who have killed God in
Dragon Quest VII
. It takes hundreds and hundreds of hours of slow grinding to prepare to kill God in
Dragon Quest VII
."
"Why would I respect that?"
Some months passed between my meeting this psycho and my friend telling me the following story.
One night my friend was out at a club with this guy. My friend saw a girl he liked. His type was the porcelain-faced lipstick-wet-lipped princess type. My friend bought this girl a drink. They talked a bit. He was really into her. She was maybe girlfriend material, he said. My friend had already gotten the girl's number and pretty much secured a date. Then this psychopath friend slid up and said something like "Long time no see". My friend realized his new friend knew this princess girl. The girl went all cold. Like, she transformed into a completely different person, one who happened to look exactly the same. Days later, my friend was texting the girl at work. He was on his lunch break; she was on her lunch break. She told him that he shouldn't hang out with that guy.
"He's not right", she said.
Many months ago, this alleged psycho had taken her out on a date at a fancy restaurant. He asked if he could take her picture right before she dug into her dinner. He saved it to a folder on his phone. They had some sex that night. She didn't tell my friend how it was, or else he didn't tell me how she said it was. I wonder how that would have worked: she sitting in her chair at work, furiously texting about a sexual experience with a man she had come to hate completely three days later, maybe with cheap wooden chopsticks sticking out of a smoking Styrofoam bowl of sweat-smelling ramen on top of her desk; my friend sitting in his office chair thumbing down through her texts, maybe with a mouthful of rice and a hard steel can of green tea in the other hand. Three days after the psycho and the princess had sex, the princess told my friend, the psycho sent her a text explaining that he was in a business meeting; some old guy was droning on about numbers and numbers. The princess replied, probably offering her sympathies. The guy's next text had a small phone-camera photograph attached. The photograph showed a white-faced princess-like girl sitting before the same table of the same restaurant where he had taken her three days earlier. On the table before her, a similar glass of red wine. "What do you think of this girl? Is she cute?" The girl replied: "I guess." The guy replied immediately: "I fucked her the night before I fucked you." She didn't reply. Two tens of minutes passed. The guy texted again: his text included yet another picture of yet another girl, also in the same restaurant, also with a glass of red wine. It was the same table and the same camera angle. "What do you think of this girl? Is she pretty?" The girl didn't reply. He gave her ten minutes. "Hello? Anyone home?" She still didn't reply. He texted again: "Well, i fucked this girl, too." Minutes later, during another lull in the supposed meeting, another text, with another photo of another girl, in the same restaurant, the same table, the same camera angle, the same glass of red wine. "How about her?"
"I can tell you don't even know him as well as I know him. I don't think you should be friends with this guy," the girl told my friend. "What kind of person would do things like that? He's unhinged."
My friend eventually met this girl, in person, for dinner. They talked about their lives; they talked about what they had studied in college. They talked about the kinds of jobs they had had, and the stupid things their bosses had said or done, drunk at a company party. They were in a bar after dinner. She ordered a glass of red wine. He remembered the story she'd told him in texts the week before. "You know, that guy's not really my friend. We met at a club. He said he thought we had similar goals — you know, to meet chicks. I can't say for certain I was, like, looking for a wife or anything, though I never ruled out the possibility. Maybe I just liked being around people." (My friend told me that, really, he might have, just then, been telling the girl what he thought she had wanted to hear.) I imagine the girl looked into her wine: "I think maybe we shouldn't talk about him."
Six glasses of wine transpired. They talked about him. She showed my friend all the texts and photos the man had sent her in the past few months. He had sent dozens upon dozens. She kept them all saved. "It's been almost a year since we met and went out. He still sends me photos of every girl he sleeps with."
"Maybe it's his idea of a joke?" my friend said. The girl might have bitten her lip.
"Immediately after saying that, I knew it wasn't his idea of a joke," my friend told me, later.
"Do you ever reply to him?" my friend asked the girl that night.
"I don't," she said. "He must know I'm looking," she said.
My friend then asked her, "Why don't you block him?"
The girl thought the question over a bit. Maybe she swirled her wineglass around. Her final answer was: "I don't really know. I kind of don't want to think about it."
My friend said this was when he realized his new friend was, in fact, a psychopath, as I had said. I'd first noticed it by the way he couldn't decide between looking me in the forehead or looking me in the chin; ten minutes into the dinner party he'd invited my friend to, which my friend had in turn invited me to (at his new friend's request), I realized that no one had actually invited my friend's new friend; by bringing two other people, he'd effectively invited himself. My friend never had sex with the girl, and never went out with her more than the once. He didn't really think about the reason. He told me all of the above story one night at my house in Koenji, on my sofa, while I rubbed my thumb over my silken steel acoustic guitar strings with the window open as a wet breeze complained quietly in the middle of the night. He started his story by saying, "You know that guy you said was a psychopath? I think he might actually be a psychopath." Then he told me what the girl had told him. I listened to it all. He ended his story by saying, "The guy is definitely a psychopath." When he was done, we were quiet.
After a brief hesitation, I asked him if he'd considered that the guy must have been doing to every girl in those photos what he had been doing to that one girl. He blinked a couple of times. I don't think he had considered the possibility until just that moment. No: he definitely hadn't. I guess that makes my friend a more genuine person than I am. When I thought about how he might have not had thought about it, it made me feel sick and sad for a little while.
People's psychoses are such weird labyrinths! We (people like us) have a lot of him (that guy) in us, and I suppose he has a lot of us in him. I wonder how people like us and people like him got as far apart or as close together as we are. Every one of us is cousins or brothers or sisters of a serial killer, rapist, genocider, or jaywalker. I watched my friend think about the exact nature of the man's problem — which is, in a way, the problem with all of us humans who wear clothes and cook our food (only amplified). I knew from the wrinkle in his brow and the way he adjusted his bottom lip via spasms of an index finger that the girl had been something special to him, and that he couldn't help having been believing that she had also been something special to everyone else — or at least to that one other man he knew who had known her, briefly, better than he had known her. I could see he was irreparably worried about some percentage of anything and everything from that point on, and maybe will be, for the rest of his life. I had made him one more molecule closer to myself. In the end, I had been and was correct about everything. That certainly didn't make me feel better about anything. And so we continue to stand, atop a hill in full view of Mount Everest, empty pistol-hammer clicking like a defective animal-throat: we've forgotten to bring bullets to our impossible mission; the ticks and tacks of metal on metal fly at super-eagle-speed, causing avalanches the size of human hearts on the sides of, eventually, every mountain in the dark, cold universe.
I suppose this is the point in our story where the psychiatrist puts the cap back on the pen.
–an excerpt from my new novel
an incident involving a human body