tic-tac-toe for beginners (molecule days, follicle nights)
by
108
;08202007;2304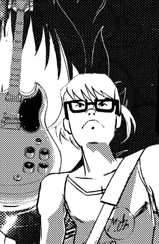 You may or may not be pleased to know that
the Wikipedia article on tipping does not cite any references or sources
, and has been flagged appropriately
Second of all, I've been waking up a lot lately. You never really notice how much you're waking up until you wake up at seven different times on seven different calendar days in a row. There's almost no right to this rhythm. I might go to bed at midnight and wake up at four in the morning, and then I might go to bed at four in the morning that day and wake up at ten AM — and then go to bed at six PM and wake up at three AM. Or stay up that night until nine PM and wake up at three PM the next day. I don't quite believe that desire to sleep stores up, for one thing. I'd wager that sleep is more of an opportunity than anything else. After all, if I stay awake for four days, that doesn't mean I'll then sleep for thirty-two straight hours. More notable is that I'm sleeping more deeply, and I'm seeing terrific dreams; my habitual urination has finally started to merely become part of my dreams. I tell you, there's hardly anything worse than being heavy with tiredness, one navigational click away from the center of the forest of the night, and vaguely jealous of that pen-knife-like feeling in the groin that tells you you're going to have to get up and turn on an electric light, and squint for sometimes upward of a minute if you ever want to see the dark side of your imagination again.
It's been roughly five months since I earned my freedom and slipped into this erratically sleeping existence I occupy. Somewhere in the middle of a recent night, when a friend was sleeping on my sofa and snoring more loudly than a wig factory on fire and all its workers on strike and doubly angry, it hit me that this is probably how I'll be when I die. It was a fascinating realization — here I was, locked up in a cage with iron bars in the square of that South-American village called My Own Life, with a hot slab of sleep dripping and bloody on a stick inches from as far as my hands reached, and for over a week, as well, and I was entertaining the fatalistic revelation that this way I feel is probably how I'm going to feel when I die, and that there's nothing morbid about that, really. I see self-entertaining gentlemen all the time, on my increasingly infrequent trips to the hundred-yen store (hypothesis: I might be a human being capable of purchasing enough hundred-yen housewares to last him indefinitely, and eventually I might cease to remember things I've forgotten). I see men in their late fifties or even sixties, who seem like they don't mind not getting up and walking to the train station every morning at the crack of dawn, packed into a steel cylinder like meat molecules into a sausage, and eventually stuffed into a necktie and a cubicle, like a mud molecule in a brick. When they (and we) wake up, they feel cute, bucket-of-puppy-like, philanthropic admiration for all those about to live another molecule day.
I was forced into insomnia by another's snores for two weeks, and for a week before that, I'd been loopy with a throat cold. I felt positive anger at the mucus in my lower sinuses. I'd never had pressure on my face before. I didn't like it, though I must admit it felt kind of new. It was only on the third-to-last night of my unfair imprisonment on the charges of being able to hear that I realized how comfortable I was how I was, and how prepared I'd be to fight to the death or lose my breath doing so if someone told me I couldn't do things this way anymore. For a couple of minutes at a time, these things scare you: I make enough money, and I
have
enough money, to not worry about relying on anyone else again. There are legal issues, yeah, like having some government's permission to sit where I sit and stand where I stand, and it's kind of a pain when it comes up, though for now I'd rather not think about it. Here I am, at home. It's not that everywhere I go I'm at home, it's just that I only go places where I feel like home. Like Korea — lord knows I know no one there that I'd consider like a brother or a sister, or even a son or a daughter, though there's an awful and great memory of once falling in love with someone's aunt over there. Broken down into semantic molecules, it's not that hard to swallow — I'm someone's
uncle
, for example. (Three someones, actually — my brother just produced his first male heir, Roy Lee IV, two weeks ago, and I have no idea what color the sky was when it happened, where it happened.) However, the aunt in question was also the aunt of someone my age. Even so, with a little bit of perhaps-regrettable analysis, I can make myself feel better: there, in Korea, where families extend to straddle eight-lane highways as train stations do, or anywhere in the world, really, sometimes parents have the funniest inspiration, and decide to tell their married, child-producing, adult children that their toddling sons and daughters are soon to be nieces and nephews (not respectively). This wasn't the case with the someone's Aunt I Dared to Touch — that would have made her younger than me. While I'm not at all scared to admit that a woman fifteen years older than myself can still be worth investigating, I'm going to make like I'm defending myself and say this woman was less than ten years older than myself. It doesn't matter, in the end, anyway. The only theme I'm expressing here, hopefully by accident, is that if forced to guess, I'd guess that I'm getting older.
I wake up occasionally to find cockroach-leg-like nose hairs on my pillow. Somehow, in the past few weeks, I've obtained a beard. It's actually not as hideous as I would have imagined. I used a razor, carefully, to smooth out my cheeks and trim the neck. My friend Gord, who stayed here recently-ish, left a giant can of Gillette shaving gel "for sensitive skin" — it has aloe in it — so I've been using that on my neck, and amazingly experiencing no more razor rash. Roundabout last year, when I was dating a girl who'd had all manner of optional upgrades to her body, I was considering it not at all psychotic to walk into a men's esthete clinic and ask about having select patches of hair lasered off of my body, so that they might never grow back, ever, again. The front of the neck was topping the charts, back then, and I guess it still is. Using this sensitive skin gel has been an eye-opening experience. It's allowed me the confidence and patience to try growing a beard, and it's developed within me an all-new appreciation for what it might be like to never have hair on my neck again. It's maybe three hundred dollars to get rid of this shit. Maybe I should do it. I was entertaining thoughts of this the other other night, imprisoned by snores. This was maybe fifteen minutes before I realized I could use my meaty monitor headphones to listen to Merbow's "Headronefish" on maximum volume, on loop, to drown out the snores, and produce amazing lucid floating dreams, buoyed by the sound of electric eels in a sea of feedback. I
knew
I borrowed that CD for a reason. So just before this I was thinking about lasering my neck, and I thought (not in these exact words, of course) that the neighborhood of three hundred dollars to never have to shave that patch of neck again really isn't all that much of a price to pay for someone who's as close to the end of his rope as I am. It was a kind of frighteningly un-morbid train of thought to ride. It just all made so much sense: when there's nothing to be afraid of, you might as well already consider yourself dead.
This consideration of already-death has led me down many materialistic avenues. I might as well buy that $1,200 guitar — a Gibson SG '61 Reissue (in sapphire blue) — and maybe I should look into buying a bed. I've been happy with a futon for the longest time, and I guess I still am, though what with how much I wake up to go to the bathroom in the middle of the night (yes, I've been told my prostate is 100% "OK", and with a thumbs-up no less, which was kind of disappointing), maybe it'd be easier on my street-running knees to just have a bed to throw my legs over. I look at the beds on
Muji.net
, and feel adequately disappointed that my ideal sleeping solution is not called a "bed" — it's described as a "mattress with legs". Yet the only way to make it more expensive is to add a birch headboard. What would I do with a headboard if the headboard isn't situated against the wall? The way my room is set up — and I've used a tape-measure (bought at the hundred-yen shop one self-entertaining afternoon) to confirm this — I'll have to situate the bed so that I'm sleeping with my side to the wall. The headboard could either slightly obstruct a sliding glass door or sit against my bookshelf, which would serve as a protective barrier between me and literature, though at the same time it would also enrage me on principle. I'm not going to need a headboard! I'm kind of afraid of the pillows falling off the bed in the middle of the night, though; why spend seven-hundred-some dollars just to have your pillows fall off the bed in the middle of the night. That's one of the things I've always liked about sleeping on the floor — nothing can fall off to anywhere. It's so hard to just fall into a futon at the end of a hard day of walking in the park with one's hands in one's pocket and sunglasses on one's face, though. There's this girl, these days, who comes over here and has sleepover parties, and she's alright; she says some nice things; though she's probably getting bored. I have sufficient reason to suspect this. It started out with us happily cramped, and now I'd much rather split up the futons so I can get some actual sleep. She pretends to complain, because hey, what can you do. You can't extend a bed into two beds, though. And you can't put dumbbells and plastic drawers full of socks and underwear and T-shirts under your futon. You can't put
anything
under a futon. Man, life is hard.
I've bought a jump-rope recently, and I jump it in my running suit, in the morning, in the square paved lot the size of six fetal homeless men fearing hypothermia. The traffic light just inches from my window turns red, and motorists stop; in this country where men, these days, can wear Wal-Mart quality French maid outfits as a fashion statement, people still find it in their hearts to stop and stare at a guy jumping a rope in a sickly little lot. Most of them probably stop and think that it's not my house. Well, they'd be wrong. I've started turning my back on the street, which is good because it keeps me jumping. Ultimately, though, it doesn't stop the old woman at the dry-cleaners from waving at me whenever I step out in the middle of the afternoon, maybe wearing my high-contrast suit, with a paperback novel in my hand.
I've watched something like a hundred movies in as many days, over here, and it's been therapeutic. I am a conscientious pirate — I only watch things that are already available on DVD, and which I'm dead sure I wouldn't ever, under any circumstances, pay money to watch. This way, I find myself, quite often, pleasantly surprised. One day, inspired by the jump rope, I torrented "Billy's Boot Camp" and watched it over dinner, just to see. It turns out that the part about the rubber bands is just more than I'm willing to deal with. I've never been one for paraphernalia. Either way, I'm not looking to get ripped. Just to pass the time, and clean myself up. I don't want to be perfect, and I don't want to be complete — I just want to be finished. I've been sitting here, figuratively, in this chair called life for twenty-eight years, and I've just now decided that (when properly groomed) I'm closer to looking good than I am to looking absolutely fucking terrible, so I might as well fight for it.
At this stage of the war, the undesirable part is contained just about entirely in the midsection. I've switched myself to an entirely diabetic diet, which was kind of depressing for the first couple of minutes, though now that it's been several months, and I've lost twenty pounds, it's not so bad. To tell you the truth, I hate food, now that I've succeeded in bringing myself such a considerable distance from it. Eating is right up there with defecating, as far as I'm concerned. It's boring, and it takes up too much of my time. When you spend ten hours a day playing the guitar
very loudly
, and anywhere from four to fourteen hours sleeping, spending an hour chopping enough garlic to prevent my eventual meal from depressing me is just about cartoon-like in its tediousness. I'd love to live off shakes, off the absolute minimum. I don't care about delicious flavors, not so much, since I've stopped eating anything with carbohydrates. It's amazing how abruptly my appetite has been moved to apathy. It's starting to feel fuzzy and weird to pretend to be excited about food when I go out to eat. Yes, I want to live on shakes and vitamin supplements; I wouldn't even mind wearing a stark white futuristic uniform everywhere. I welcome with open arms the era when record executives all lose their jobs because some physician finds a way to produce The Perfect Album, each track a different note, a different tone, sustained for three minutes and twenty-two seconds, each track named for an emotion, directly touching our brains, directly reordering our molecules. I had a friend ask me the other day if, maybe, we'll be shunning new technologies when we're old enough to be grandfathers, and I immediately said I don't think so. That's what makes our generation different — the whole thing about open arms. My grandfather probably would cough up a cancerous lung in disgust, for example, if you'd travel back in time to tell him that you were thinking about lasering just the neck part of your beard, and fantasized semi-daily about a life where nutrition was essentially another channel on television. The key point is the yearning: what I want, I don't have yet. Back then, whenever then was, people didn't even have the foresight to think about the past. Here we are, regardless. The present is rife with too much
trying
, I've sometimes thought, in the dark. Wouldn't it be lovely, most of the time, if apathy didn't feel so terrible.
We call this one,
"TIC-TAC TOE FOR BEGINNERS"
I guess this would have been last Saturday. Hell of a personal day and age, when last Saturday feels like two weeks ago. I suppose that's a thing to celebrate, like having a face that looks ten years younger than your true age: hey, at least I don't look
older
. Still kind of woozy from the announcement that my good friend's rock band Kama Boiler will soon be breaking up, I was considering taking a train way up into Ibaraki prefecture to attend a free show of theirs at some traditional Japanese festival. They were playing that festival for two nights — accounting for a grand total of two of their last five shows before eternal silence. Nine years, they've been rocking the Tokyo underground, and after turning out a half-dozen brilliant EPs and not a single full-length album, no group of million men and women has ever beat down the door of their den and demanded to have their love returned with a bitching encore. Sadanobu Shimizu, the front man, says that he just doesn't feel like it's necessary to keep rocking. They play shimmering, smashing, rocking six-song sets in dumbstruck basements once or twice a week, and no one, to date, has ever told them to stop in the middle of a song. To Shimizu, who's now thirty-three years old, it's just getting tedious. For many years, knowing deep down he was a genius songwriter, he'd focused on the music and shunned the idea of a day job; when creativity became too heavy a burden to bear, he tried a suit on for size, and it fit well enough to not tear off. When asked if he put his band — who had, in fact, turned out an EP on Sony Music, with accolades from monolithic Japanese recording artists in the liner notes — on his resume, he says "Of course not". They were playing this festival up in Ibaraki because it was where they're from — where they grew up — and because it was not only summer, it was their last summer as a band.
This summer, as summers go, kind of fizzled out. We experienced a solid two months of rain — well, there were some clear skies for a couple of hours at a time, though semantically, at least, it rained every day, maybe for an hour a day, which would have been a lot better on people like me (and us) if I (or we) would have been able to pick that one hour. Fully knowing that a tiny bit of rain on a futon means dampness and mold for eternity, I let my bed rot there on the floor, and me halfway with it. At some point, I engaged the air-conditioner and closed the window. I'd end up leaving the air-conditioner on for the better part of three weeks. Before heading to the supermarket, when I'd sit there translating manga (my livelihood), thinking of my pagely rate, pushing myself a few extra pages, hearing the cash register sound in my head every time I flip the page, thinking, "Must cover the cost of groceries
now
", I'd add a "Must cover the cost of keeping the air-conditioner on all day, even while I'm walking to the supermarket." It turns out that my morbidly large LCD HDTV uses up about one-tenth the power of a CRT one-fourth the size, and that air-conditioning, actually, isn't that expensive when you're not living in the fucking Taj Mahal. I was actually slightly underwhelmed by the electric bill. I'd expected to have to call someone up and get angry.
So it was that I lost my summer, with work, and with air-conditioning. When the only truly hot week of the year showed up, I was inside, mostly naked, writing a review of a videogame
for fun
and
for free
. In these mechanically chilled days, I'd very often think about the internet, and think about updating this always-on window to my world with such pseudo-insightful quarter-lies as "I love having my own place — whenever I have to take a shit, I just stand up and drop my pants and underwear in the middle of the living room and go into the toilet in my socks and T-shirt, and there's no shame in it." Then I always end up thinking about literature, and how I'm not exactly the embodiment of it. And I think, what would Jack and Jill do, back in the days of the telegram? Jack would never call Jill by her name. It was strictly business. When people used obscure prose and kept things simple and impersonal in long-distance, pony-carried love letters, they didn't do it out of fear of the letter's being intercepted, they didn't even do it out of shame — they scarcely possessed the knowledge or the experience (as we literature-reading, movie-watching modern people do) to know that they possess the power to say something they might find trite or dumb, later. It was just a kind of common sense people had. Here, thick into the age of the internet, we are not literature; we've gone beyond shorthand abbreviations for laughing during trivial conversations, and the train of time has slid and stopped firmly into place at a station where it's okay to greet someone via a chat service by merely saying
"LOL"
and then signing off. Would General Jack ever send his prospective widow Jill a telegram that contained only the word "BANG"? Would he joke, saying "I've been shot"? We're evolving backward, I guess. Shame kept us sharp. I guess we don't need to be able to cut anything anymore. Either way, I try to use technology as a tool, and I fail sometimes. Like, I entered the name of the station I wanted to go to, way up in Ibaraki, and it returned me the weirdest results. I knew for a fact that it was just a straight shot from the station nearest my house — way, way up on the JR Joban Line. I merely wanted to know the exact time and the exact price of a ticket. The first result told me I could walk to Minowa Station (ten minutes' walking distance from Minami-Senju) and take the Toden Arakawa trolley line to Otsuka Station, and then take the Yamanote Line to Ueno, and then take the Joban Line from there. Or I could take the Tsukuba Express line to Akihabara, and then the Keihin-Tohoku Line to Ueno, and then the Joban Line. Taking the Joban Line directly from Minami-Senju was on page three of the results. I suppose that settles it — never mind that computers can beat humans at most games of strategy, these days, machines are inferior to us. They are kittens bringing us dead mice and expecting us to be happy.
It turned out a ticket up to Kama Boiler's summer festival show was around 4,000 yen one-way. Yeah, that's a bit much. For all I knew, Ibaraki prefecture, though technically the countryside, was most likely pretty god damned barren and heartbreakingly boring. I was feeling a tiny bit guilty for turning my back on the summer, for passing up
two
car trips to an actual beach, for scoffing at the idea of a fireworks display (and then turning out sick as cats and dogs on the day of the fireworks, anyway). I felt like I deserved to stand, too-clothed, in the barren heat of an uncool (literally
and
figuratively!) prefecture for over twenty-four hours. Maybe I would have had a magical experience in a diner. Maybe I would have talked to an old man, and learned something about myself.
I ended up not going. I was too full of the bullshit of the world at the instant I decided not to go. I was looking at ticket prices for trains headed somewhere interesting. Someone told me I could get a "Hokkaido Pass" for 12,000 yen, and use it for five non-consecutive days of unlimited rail travel. That's pretty hot! I could have gone up to Hokkaido — where it's not warm — on an overnight non-reserve train, pausing every now and then from my midnight reading of Marquez to reaffirm the knowledge that yes, the night outside is still impenetrably dark. Though why bother, only to end up somewhere where summer doesn't feel like summer? I thought about going to Osaka, or else another one of those Japanese cities I always see white people claiming is "totally better than Tokyo". I usually make fun of those people, though not without realizing I kind of don't have the right. Why not go check it out? Well, I look at the tickets, and it's apparently 5,780 yen to ride a bullet train to Osaka — plus 5,100 yen's worth of "Special Fee". Come on, you spineless bastards. Just give me the price outright. This country really
does
need a Better Business Bureau or equivalent — not that it'd help.
So I ended up at home. The only hot and humid week of the year ended, and the world took a chill pill. Here we are, window open in the beginning of the afternoon. Summer has already died. The big festival in Ibaraki, which I'm sure was
fabulous
, is over, and I see the most peculiar thing on YouTube:
My lord, I wish I'd been there, and I'm glad I wasn't. Look at the amount of effortless
trying
present here. Look at the people fanning themselves. Glimpse that fat gangster-esque man at the height of his boredom. Look at the desolate sky and those poor trees. Kama Boiler was the headlining band that night, though only by default, as they were the only band to take that stage. What else they did up there, I can only imagine: held raffles, selected the most heroic educator of the season. I can tell why Shimizu chose to play this gig, and at the same time, it frightens me to think that someday I might make a similar choice.
(Kama Boiler's final show is at Shinjuku Red Cloth on the night of August 30th, by the way. If you are a regular reader and will be in Tokyo, do not hesitate to show up. One might even say attendance is
mandatory
.)
I suppose I have a rock band going on, over here. In playing the guitar habitually for a double-digit of hours every day, I've come to be able to play faster, if nothing else. I can't help thinking that I really needed to go to this Kama Boiler show way out in the middle of the country, because it would have slotted the final piece into my puzzle. Either way, we take what we can get, and we can't really guess
anything
, in the end, so I'm excused for my lapse in judgment, for my welcoming of comfort. A year after an opportunity collapsed, here I am, ready to play a hell of a show, and just kind of perplexed as to what will happen when I do. I've gotten over being ashamed, of thinking that people will boo me off the face of the earth; I've known for the longest time that while a triumph would buoy my spirits for the rest of my self-entertaining days, a dismal performance — a bomb, if you will — would no doubt force me to live with guilt, or else overcompensate by raging against the basements of Tokyo for the rest of my life. I'd probably end up dead of an aneurysm. Yet at this point in time, the destiny to rock will not sit down and be quiet. It's quite sadly inevitable; I say such things with no fear, and no shame that someday I'll think I sounded ridiculous. No, I've become an expert at knowing when I'll find something ridiculous later. Think about all those gimmicks I brainstormed for rock shows — put a TV on stage and tune it to the evening news, so that people can watch the news if they don't care for the music, or hang a noose above the stage and invite anyone who feels like they can now die happy to hang themselves at any point in the set. I seriously entertained, for the longest time, walking out on stage at our first show and saying, prior to the first song, "This is off our first record. Most people don't own it." Ultimately, I figured that a thousand kids in a thousand bands have probably done that since 1993, thinking they were being ironic. And now here I am, without a gimmick, or even a sensation. Stepping up there and playing that guitar is going to be like suiciding a vital part of my self up until that point. I suppose thinking about it any further is ridiculous.
Anyway.
A few days before this, my friend who snored like a burning wig factory talked off-handedly about paying girls to talk to him. These host / hostess clubs they have in abundance here in Asia have always made me curious. (For an excellent documentary on host clubs, see
here
.) What it all boils down to is that you pay an hourly rate to sit in a club-like bar and occasionally talk to people who are either charismatic, good-looking, both, or certified to be either by an industry professional. Most of the customers of host clubs are prostitutes, and most of the customers of hostess clubs are businessmen who think like prostitutes. They're people who have progressed past sex and well into another field. The amount of money one man might spend buying diamond rings, cars, and furniture for a girl, a hostess club customer might spend to just drink whiskey in a girl's presence. These are people who know the drill so well that they subconsciously understand there
is no drill
. If they ever stopped to introspect, they, like me, would find themselves longing for a diet-shake existence. Normally, they're moving and shaking too much for that — moving and shaking so much, yes, that lasering off unwanted body hair is actually a time-saving solution they've most likely (and kind of ironically) already taken. Eating in expensive places is something they do to reaffirm themselves that they have friends, or that they are "friendly" with their coworkers, which is necessary to living a "normal" life. Paying exorbitant fees — never less than a hundred dollars a night — to drink in the presence of girls guaranteed to be found attractive to
someone
is a natural course of action, when you've pared your existence down to a point where you don't even need a wife. If only these people would just play guitar, or something, they could save so much money. Well, different strokes for different strokers, I guess. They liked their canned seduction, and unlike me, they might just arrive at their deathbed with no more money in their bank accounts than is needed to pay that final check. What's the point of saving money, anyway, when it's not real?
The business of seduction, the dance of it all — tangoing the girl right up to her door and saying goodnight has become "enough" for the greater part of the populace. We won't even need a nuclear catastrophe to sterilize the women, eventually. There exist conscientious men who simultaneously engage in these practices, find it totally normal, and yet will concede that the world
is
in need of a little lubrication.
And yet there's disgust seeping in through the woodwork. I can't visit a social networking site on the internet without someone who's not real asking me to go to another site, which offers less features and even requires payment. Most recently, the Japanese social networking site, Mixi, has become all too full of the mysterious shills — young tan-in-can-drinking men with pierced noses and crumpled suits copying and pasting the same twenty or so lines of a non-existent girl's self introduction, slapping on found photographs, and amassing friends' lists so that they can turn around and post a doomsday of a blog entry:
"Hi! It's so hot lately! And I'm so lonely, without a boyfriend! Why don't you all join THIS WEBSITE RIGHT HERE."
This fools no one. There's no warmth in it. I had thought of technology as a lovable tool, as a cuddly pet, and lately, I look at these gangs of shills — just yesterday, I found one Mixi profile with 31 friends, each of them with no profile photo, each of them with exactly the same self-introduction text. I caught some shrimpy little yakuza businesskid in the middle of his afternoon's task. I sent him a message:
"It's Sunday, for god's sake."
He didn't reply, and I don't think he will.
At any rate, hearing a wealthy man who snores tell me that it's fun to pay girls to talk to and drink with you sounded a heavy gong in the back of my mind. Maybe the men at hostess clubs aren't
nearly
as terrible and/or lecherous as the thoughtless, presumptuous shills clogging these laid-back social networking sites. A man with enough money and a healthy sense of fatalism knows that the world is, after all, like a hostess club: the rules are rubber-cemented face-up to the bottom of each table, and rule number one states that by never noticing these rules, or by never reading them, or just by glancing at them, you're agreeing to them with every molecule and follicle of your being.
So I have this girl, lately, that I like, who might be getting bored, or might not be. I figured she knew what she was getting into when she said the things she said — over a year ago, now. Who knows. She might surprise me. Tomorrow is her birthday, so I'm going to make her French toast (FT), and I guess I'll have to eat some, or else look like a jerk. (So say, I think, the rules rubber-cemented to the bottom of the coffee table.) Last year, my friend and esteemed lead guitarist Zazen Joe Hardpuncher arrived in Tokyo on my birthday — this year, he arrives on hers. Maybe he can eat my FT for me.
It's alright to not have much of a party; this girl has friends, fans, admirers, professional assistants, and a life of her own. Listening to her on the phone makes me appreciate my own independence. They're having some big all-night drinkathon tonight, I guess. She'll be turning 26 at midnight, and so will her identical twin, hundreds of miles away, in Shikoku, where summer looks like summer and the sliding wooden back door of the house looks ot on a black-watered beach with sad beige sand.
As it is summer, and as we had an amusing conversation about boring couples whose female half occasionally will insist that they're not "going
out
" "enough", she saw fit to strategically say that maybe
we
should go out to some stupid, ditzy "couple" places, too, just for the hell of it. We immediately ruled out Disneyland, because Disneyland is pretty disgusting, and in Japan they let far too many people into the park, resulting in six-hour lines for Space Mountain when the park is only going to be open for three more hours. (Again with the fatalism.) Also, it's too expensive, and thus not worth the long trip out to Chiba. We ended up at the Shinagawa aquarium one day, where I just about had an epileptic seizure during the dolphin show because of the god damned dog whistle the trainer kept blowing. Seriously, you can't take me
anywhere
there's dog whistles involved. Down in the basement, there were sea turtles swimming amongst amazingly boring fish. The dark blue of the ceiling, the grit on the glass: it evoked a certain mood, though I didn't stop to ask that mood who he was. The plaque said that sea turtles die on the same beach where they were born, which is something I've heard before, though I never bothered to prove whether it was true or not. This all happened in the early afternoon of a piercing blue-skied day that would later turn to torrential rain. The aquarium was crammed with little kids screaming like billy goats. Halfway back to the train station, I had a fever of around a hundred and two. I was sick for a week after that. I kept dreaming about that one sea lion in the sea lion show, who would bark loudly, as though on fire, immediately after completing a trick.
Two weeks prior to that day, back when it was raining three to six hours a day instead of one or two, we went to the planetarium on the top of the Sunshine City building in Ikebukuro. I feel like I've talked about this a hundred times already. Me and this girl make our own working hours, so going to the planetarium at three in the afternoon is something we can do. And when we do it, there we are, surrounded by other people who decide their own working hours, or else high-schoolers. The show we witnessed at the planetarium was narrated by a rather boring pop singer, and it focused on the stars visible only in the southern hemisphere, most specifically the southern cross. We got into the little theater about ten minutes before showtime — she'd thought we weren't going to make it, I hurried her there because I didn't want to be stuck in that damned building for another hour and I didn't want to go outside, either, because it was raining. My socks were wet through the whole show. The girl — it'd been her idea — fell asleep about halfway through the one-hour show. She woke up five minutes from the end, as the theater went dramatically pitch-black. I heard her cough through her nose, and sit upright.
The narrator was talking about Ayer's Rock. The largest single rock in the world. It's in Australia, which, yes, is in the southern hemisphere. You can see the Southern Cross from there. The area around Ayer's Rock is exceptionally barren, and the sky is crystal clear. It's considered by many astronomers to be the best place for stargazing on earth. The pop-singer narrated in his best imitation of a documentary: there's an open-air restaurant near Ayer's Rock. They only serve dinner. You show up around six PM, and are then ushered out into the outback, where candlelit tables are set up. They serve you dinner course by course. Eventually, it's dark, and the hundreds of candles all around are the only lighting by which to see your food. When everyone's finished dessert and wine, the restaurant's ample staff carry off the empty plates, and just when the diners least expect it, the staff blow out all of the candles in one magnificent instant, plunging the world into pitch-darkness. And then the diners realize the greatness and the vastness of the starry sky above them. Girls reach out to squeeze the hands of their men. Ice-like thoughts cross men's minds.
"If you are ever in Australia," says the young narrator, reading from a script, "I very much recommend this experience."
I all at once remembered the humidity outside, the streets reflective with rain, the blue umbrellas and yellow headlights and gray urban walls of sky and cement. The leading notion was "It's not enough". There's not enough room for all of everything. I realized what kind of person I am — a free one — and I realized how free everyone else in that little planetarium was, free to buy real estate and watch television from their soft beds at four in the morning because they don't have to get up to go to work, and there's nothing wrong with that. It's us versus the world, in a sense — one on one. One is the us, and the other one is the world. It was a bitter realization, and I felt suddenly disgusted at the idea of the Ayer's Rock dinner. It wasn't that it didn't seem lovely — it was that it seemed
too
lovely, like a much better date than falling asleep in a planetarium or contracting rabies in an aquarium. And here was the world, ignoring where we were and letting us know in broad tones where we were not. I felt all at once like I'd been working as a waiter at that Ayer's Rock experience for six decades, with a beard to my groin, swollen tonsils in my throat, and no love to call my own. I wondered how much longer I have to roll along before I collect enough trinkets resembling insight to actually put something worthwhile into a novel. Here I am with all these fragments of reality, and yet, when I sit down and put my fingers on my Sanwa Supply brand keyboard, I can paint these complete (if not perfect) pictures of fake lives, composing straight journalism out of wildly fantastic subject matter.
I wonder when I'll arrive at that completing notion and make the dreadful decision. For now, all I have is the constant feeling of having just awakened an instant before, ten feet above pavement, hitting the ground so hard that when I stand up, though my hands are not skinned, blood rolls down the sleeves of my shirt, and I wonder, sincerely, where it's coming from, for only a moment before I realize it's coming from everywhere. I roll up my futon in the morning and spot one of my own hairs stuck to the middle of its underside. It's too long to have come from my head any more recently than June. I reach for some running socks, in the drawer I use every day, and there, inside the pair I take in my hand, is the hair of a girl who was only here once, and more than a year ago. Different moods stir up different hairs. For some reason, when I saw that hair, today, I thought about Ayer's Rock again, and then I was struck by the weird notion that adult life — at least insofar as I've experienced it (getting a job, working that job, saving up money, earning independence, retiring, traveling, et cetera) — is like a Tic-Tac-Toe game where all you have to do is not lose. Personally, I would prefer not to allow someone into my house — or even into my bed — if they can't tie me at Tic-Tac-Toe. It's not a
game
, it's a puzzle. Some people don't realize this. For a whole thirty seconds, this morning, before looking for my jump rope, I thought about the man in my office who'd been fired; aged over fifty-five, with children whose colleges he bragged about at every opportunity, the man had done nothing in over two decades, aside from drink a lot at parties, and take clients to hostess clubs. Before then, he'd just answered phones, I suppose, and spoken very loudly and very politely and very zealously to his boss. There was some shock at his termination: however will he fend for himself? Said I, to a coworker, you know, he earned enough of a salary to comfortably retire by now. Well, said the coworker, what if he
hadn't
saved enough? And I replied, then I guess he was never fit to be our boss. Or mine.