songs of travelers, finding my fingers
by
108
;12112006;2348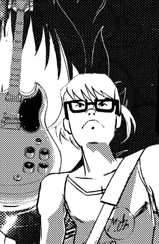 Inspired by the shower, Ryuuichi Sakamoto, and Yasunori Mitsuda's "Another World" theme from
Chrono Cross
, I imagined a melody, emerged from the shower, and recorded my first attempt to play it. If my life were a story of four young people who set off on an adventure pointing toward revenge for a cataclysmic family- and village-wrecking event that they were probably too young to witness, this is the music that would play when they stepped away from the smoking ruins and the camera swirled up high up over the land, powdery clouds drifting everywhere, birds flying in random directions, inspiring us that despite whatever horrendous occasion, something, somewhere is free.
I'm being pretentious on purpose, yes.
To turn this into a pop song, one need only play it as is, and then immediately stomp a Big Muff and play it again with drums backing. Then, for the last verse, jangle a bit on that chord (like this: x999x9, x999x0, x9990x, 0999xx, et cetera — it's precision jangling, lots of fingertip muting), and raise the vocals to a hoarse cry.
The name of the "song" is 『旅人の唄を』 "Songs of Travelers". It has only one stanza of lyrics. "When the next morning comes / We will hear / Songs of travelers, songs of travelers, songs of travelers." In Japanese. More "vocalizing" than singing.
I've been finger-picking for a week, and playing guitar for six and a half months. Whether I'm yet "any good" at the instrument isn't for me to say, though if I know one thing, it's that the great divide between the music in my head and the motility of my fingers is gradually growing smaller.
I need to obtain the proper hookups for my Macbook Pro so I can just record stuff like this straight into Garageband.
I have uploaded this video to this site because YouTube is just not working today.
View
here
.
Dedicated to Doug Jones' baby daughter Megan, birthday November 14th.
Actually, this song goes out to
all the girls born on November 14th
, of whatever year.
And emegas as well, even though he's not a girl and was not born on November 14th — because it was a discussion with him about Yasunori Mitsuda that had put Mitsuda on my mind these past couple weeks.
Actually, I was thinking that Mitsuda could definitely take over for Koichi Sugiyama if he ever gives up on the
Dragon Quest
franchise. It'd be a different direction for the soundtrack, of course, though I reckon Mitsuda's vision would be appreciated there.
Well, Sugiyama announced today that "I plan to do Dragon Quest music until I die." Excellent resolution in the old man. Also, I have about three hundred emails asking me what I think about
Dragon Quest IX
being a
four-player action-RPG for the Nintendo DS
. I have gone through a weird little whirlwind of opinion in the last few half-hours, and now I say, go ahead. Bring it the fuck on. I've always maintained that a four-player A-RPG on the DS could actually be really awesome. It's just that — like
Children of Mana
— they've all seriously blown big-time. So yeah. Bring this one on. And please don't have the game open with an animated full-motion video, because lord, I hate the "ActImagine Video Codec" screen that just sits there at the beginning of every damned DS game these days.
So yeah. The point of this entry has been
this video
. Please watch it and let me know what you think. I'm going to make some rock and roll music soon, I swear. I'm just finding my fingers lately, is all.