Journal: 05 / 2010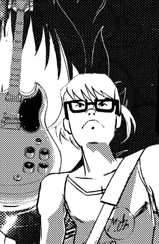 Large Prime Numbers the rock and roll band experience is doing pretty well these days! We are rocking pretty hard. I'm going to post these two videos here. You might like them! You can view them in full-screen HD, if that's your thing.
The first one is a Real Song — and one called "Don't Stop Till You Get Too Much". The second one is just us joking around during the sound check.
I recommend watching them both, if you have the time. The joking around one is pretty fun!
If you're going to be in Tokyo anytime soon, just email me and I will let you know when we're playing.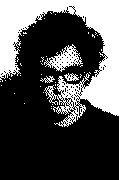 Hussein Chalayan has created some fantastic collections in the past- clothes that become an envelope, clothes that perform a metamorphosis, clothes made from furniture. He's one of the few real auteurs in fashion. So it's with a mixture of confusion and disappointment I've viewed his last few collections. They're thoroughly commercial and the clothes are good, but they don't seem to be from the same place as his earlier collections. Looking at style.com, the last collection from him that I really loved was in March 2008- a collection that represented speed in the construction of the clothes themselves. The 3 collections after that seem to mark a change in direction, towards "sophistication", some would say. It's only considered sophisticated because designers like Yves Saint Laurent, Bill Blass, Edith Head et al made it sophisticated- it's not sophisticated thinking, but looks sophisticated because those designers are a typical point of reference for That Sort Of Thing; the sophistication in our collective consciousness. The little black dress and Saint Laurent's Le Smoking and a porkpie hat and trenchcoat- visions of sophistication most westerners are familiar with.
It's actually far
less
sophisticated than previous collections of Chalayan, because then he was doing something only he could do- these were (and are!) the collections of an auteur. Sometimes when people say "auteur" they mean "everything of theirs is recognizable", and hacks can do the same thing by repeating themselves over and over. But Chalayan's collections, up until the last 3, never repeated. They weren't only fantastic because they're unique to Chalayan- they also had a lot of thinking behind them, and interesting ways of presenting that thinking. Often the thinking was what seems like the most direct route. Experimenting with decay for his graduate collection, he actually buried clothes and dug them up later. In these last 3 collections, the thinking is less evident (is it evident at all?). More than a handful of people could make these collections. The coats in his recent "American" inspired collection are flawless, but that- and the memory of elegance, god bless it, is all the collection has. The concept of the collection was a road-trip through America, so we cycle through clothing inspired by various parts of it. It's a cute concept. But when each piece is examined without this knowledge it looks exactly like a piece of clothing (and nothing more).
This isn't all that far away from contemporary art practices. Often a work offers no clues to its "artistic" value or anything like that. I saw an exhibition last year where clear sheets of paper where taped to the wall- until you looked closely, and noticed tiny specks of
dust
on them. Oh, great Moses! This surely is Art with a capital A. Perhaps this artwork would've been interesting with context- why the artist created it, what other works the artist had created, etc, but we were provided with very little context. And so it was dust on paper.
What I'm wondering is how much "context" can someone get away with, when it's not expressed in the work inherently? Or rather: if the work seems to have no value inherent in it, what are we supposed to think? Are we expected to ascribe our own, well, everything to the work? Sure- why not! But this work- Chalayan's "America" collection, tells us exactly what it's supposed to be about. It tells us in a fairly heavy handed manner, like a nun schoolmistress with a cane behind her desk. The way the show was presented- in sequence (LA, NY, etc- one after the other), and with a soundtrack of an ever-changing radio dial to accompany it. And the clothes themselves are as American as Marilyn Monroe making love to the Hollywood sign. It's an American road trip, full stop. Here the artist/designer/creator isn't asking the audience to come up with their own meaning, it's already there in capital letters. Or rather, we're told what it's SUPPOSED to be, but the clothes themselves don't stand up what they're supposedly about. They're just clothes. The collection fails under its own terms.
Granted, it's a risky concept to try and pull off, with masterpieces like "On The Road" and Robert Frank's "The Americans" in the same vague category. I think Chalayan made a mistake in going for the most obvious solution here- a painfully literal interpretation of "American Roadtrip". It's cringingly obvious, and it results in typically American clothing. That sort of thing's been done recently by Marc Jacobs, Alexander Wang (not very well, but he's done it), oh- and just about any other designer you care to name. Chalayan's America is no different to previous incarnations of it- it lacks the paranoid warp of Pynchon's America, "That Weird Old America" of Dylan's- it lacks anything to distinguish itself from the America of dozens of Disney movies and 1940s B-movies. His clothes are American without saying anything about America. I'm not expecting witty social commentary (the collection has binoculars done in sherling to go with a sherling coat- that's funny at least), or a thesis about The State Of America Today. It'd be good enough just to see something new. The keyword here is "see". William Eggleston's work isn't particularly statement-heavy (at all), but it shows things in a new way. Here it's hard to tell the difference between a Chalayan coat and a coat bought at Neiman Marcus. It is the exact same view (sans sherling binoculars, but those are a gimmick) as can be found elsewhere.
The two collections before "America" are so leaden with the elegance of collective memory that it's hard to remember exactly what they were like. Sharply cut jackets, clean lines, generous dollops of white and navy. Reading through a review by Sarah Mower, she quotes Chalayan as feeling a need to go back to minimalism of his early career, saying it's harder to subtract than to keep adding. That sort of sentiment reminds me of the videogame designer Fumito Ueda's approach to his games- a philosophy of subtraction. Yet there's a danger of taking away so much that nothing's left. Ueda's been very successful with his approach, partly because paring back conventional game design results in a kind of freedom. The landscapes he employs are often barren, and his use of light is very particular – it's reminiscent of Nan Goldin. It's the same freedom the eye has when watching "No Country For Old Men" or parts of "Paris, Texas."
But Chalayan is working in the medium of clothing, and doesn't have the luxury of barren landscapes and haunting soundtracks. His minimalism has to be accomplished differently. It's no good just taking a button away here, a pocket away there, and making sure the line of the clothing is clean the whole way through. That's a misconception about minimalism in fashion- it's more than
just
that. Helmut Lang created garments with minimal detailing, with clean lines- the usual things that define minimalism in fashion. He also created latex dresses that somehow looked elegant. His minimalism wasn't just in the clean lines, it was what he used the lines as a platform for- in this case, the latex (and the implications of that). Alber Elbaz at Lanvin wouldn't be considered a minimalist designer by most, yet he's consistently worked with a very strict, very minimal vocabulary, sometimes using a procedure over and over for the entirety of a collection. That's as minimalist as anything by Helmut Lang. Chalayan's recent minimalism doesn't work because it's
only
the surface- the clothes hold the same level of depth and interest as a t-shirt. What he really seems to be in pursuit of is timeless clothes. That's the same target as Phobe Philo, too (minimalism be damned- she's not a minimalist designer, despite everybody saying she is. She's a designer practicing a form of minimalism that's far, far away from the territory of Helmut Lang and Jil Sander. Worlds away.)
But what's Hussien Chalayan doing making "timeless" clothes? His mechanical dresses- aren't they timeless? And the table-skirts and envelope-clothes- aren't they timeless, too? Like "elegance", timeless is a concept with so many historical dust bunnies under the bed that to the modern person, it means things like "peacoat" and "Chanel suit". It's almost a marketing concept: buy this Louis Vuitton bag and you'll own something "timeless". See, here's a picture of Keith Richards with a guitar to prove it's as timeless as the old bugger himself! So it's very dangerous of me to ascribe this concept of "timeless" as something that Chalayan's aiming for, yet that's what his last three collections seem to say, loud and clear. "Timeless" and "elegant" in this overworked, clichéd fashion that fashion loves to recycle every season. Chalayan's clothes are among the best of that trope (so are Philo's, for that matter), but he's capable of far more. He's now making clothes that're
already
timeless, rather than making his own clothes that
could
be timeless. In other words: he's swimming in the safe, shallow end of the pool. Not enough risks, my dear Mozart.
It's disappointing. It doesn't make me feel good about fashion when one of its best designers is making clothes that could be on a rack at H&M. It gives me a feeling of nausea, and eventually boredom. No doubt he'll work himself out of this rut- I have both faith and buckets of hope that he will, because a world where Chalayan is playing it safe is like a world where Warner Herzog is in a retirement home.