Journal: 03 / 2009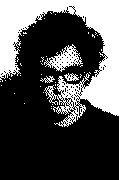 The girl was blonde and had a nose-ring. I don't remember exactly what clothes she wore; maybe a black dress. As I browsed the men's racks, not really looking for anything- just idly flicking through various garments; she came up to me. She asked me how my day was.
My day was uh, ok, I said. Asking somebody how their day was is the normal thing to do, at establishments like this. At establishments that charge a small fortune for a jacket that looks
slightly
different to a hundred dollar jacket at the store across the road. I mean, if you're going to sell your soul you might as well have nice customer service.
I mean- it wasn't what she said, it was more the way she said it. It wasn't a flirt exactly, but it had a certain
lilt
to it. You can count on the sales assistant at an expensive store for a fancy manner of speaking.
So nothing happened there. I just thought I'd mention it, because she was the most interesting part of the store. The menswear racks were populated by the sort of clothes that guys who need an "alt" or "intellectual" label that costs lots of money to justify their existence buy. Margiela- check. Raf Simons- check. Nom D- check (Nom D being the in-house label anyway. In New Zealand, it's kind of famous for no apparent reason. The clothes are a synthesis of the dark elements of other designers: Martin Margiela, Yohji Yamamoto, Rei Kawakubo, etc. They're nice clothes, but I feel like buying them is a bit like buying a really clever fake. Or a slice of cheesecake in a bakery that you
know
was your Grandma's recipe that the goddamned bakery stole whilst she was out at Keita Takahashi's knitting group.)
Whilst I'm writing all this, I'm listening to Bob Dylan's "Modern Times". It's a weirdly clean album. Clean like a doctor's surgery, or an Howard Hugh's bathroom. The sound kind of dies- when a note is played, it's gone forever. There's no sense of distance, there's not even a
hint
that maybe the A# the piano plays lives on elsewhere. It's simply stopped, forever. The clothes here are like that too. They're the sort of expensive that likes to be anonymous. If I were to purchase a jacket (I say jacket because that's the majority of what they sell), like the girl with the nose-ring probably hopes, I'd be forever trying to justify it afterwards. I'd hand over my money or card, or note-holding-them-ransom, and feel the cliched sinking feeling. I'd go "Oh, fuck. What the
fuck
have you done Eden?"
"What the fuck
have
I done" is a recurring feeling when I buy clothes that I
know
are too expensive for what they are. I thought "What the fuck have I done" when I recently purchased a t-shirt. It's a great t-shirt: white, with two collars creating a faux-sense of layers. There's a picture in the corner that's oddly saturated of a boy holding a kitten. I spent forty dollars on it. A t-shirt of a boy holding a kitten with two collars, no matter
how
great, is not worth forty dollars.
There's a few distinctive pieces; although I don't know if they even deserve to be called "pieces". They're most certainly clothes. There was this Raf Simons coat (regular readers will know how Mr. Simons recently gave possibly the worst collection of this year) that had an odd fabric, kind of lined. The tailoring was perfect, and it was very heavy. 960 dollars, I think. It was too big for me anyway. I suspect the wearer of the coat would eventually get back pains ("960 dollars for
back pains
? Man, you can get those for free!")
I spotted a number (n)ine jacket that I'd seen last time I'd been there. It was green, had wooden toggle like things- rope attached to it like it was the lovechild of a sailor and a…..teenager.
I'd love to say something more glamorous. Lovechild of Marilyn Monroe. Lovechild of Andy Warhol. But the fabric's the kind you find on an ordinary hoodie, or sweater. Cotton; thin, unremarkable. Fades easily.
Ah, but on the label it says
Ten Percent Cashmere.
So I guess it's luxury! Does this ten percent stop the fabric from feeling cheap? Nope.
I'd possibly buy it if it were in a better fabric. But I can't get away from the idea of paying
all this money
for something that is essential a sweater with rope attached to it.
Actually- let's be honest. It'd have to be a pretty amazing jacket for me to spend whatever godawful price they want for it. I saw a t-shirt by Martin "I don't design anything anymore but don't tell the kids that" Margiela. It was embroideredwith studs to create the effect of a waistcoat. One Thousand Dollars. One. Thousand. Dollars, for a
t-shirt
. It's a very nice t-shirt, and I'm sure little old ladies spent many hours embroidering it. That t-shirt has been there for about a year.
There's a wooden cabinet with dirty glass on the top, there's a wallet by Margiela that's made of 11 dollar bills (Subterranean Homesick Blues anybody?). It looks like a wad of cash with a clip in the middle. I'm actually, genuinely tempted to buy it. Somewhere I've got a couple of novelty calculators lying 'round: one looks like a note of cash, the other looks like a matchbox. They probably cost 20 cents at a garage sale or something. The wallet on the other hand probably costs a couple of hundred (if not more). I look over to the girl with a nose-ring, and almost say: "excuse me, how much does this cost?"
I don't, because I know I won't have much money to put in the wallet afterwards (and if I ask her "how much", I'll probably buy it. I've already spent enough money- before going to the shop I bought some books including Norwegian Wood and Hard Boiled Wonderland and the End of The World. I've been avoiding Norwegian Wood for a while now: it's the Murakami book that every teenage girl with glasses has read, and every boy trying to get into that girl's pants has read. It's like listening to "Blonde on Blonde" and saying you
know
Bob Dylan, or listening to "Smells like Teen Spirit" and calling yourself a Nirvana fan. Well, at least the "Blonde on Blonde" listener has the
endurance
to listen to 71 one minutes and 23 seconds of the (then) sexiest man the The Universe. But you know, Norwegian Wood is pretty good!)
The women's clothes fares better. They're all black. I can't describe them
specifically
, they're just shrouds; shadow-like figures that I walk quickly past. That's what this store sells really: shapeless dreams.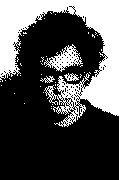 It sounds like a radio- my battered ipod nano plugged into one of those cheap ipod speaker systems- playing PJ Harvey's "Rid Of Me". Not so much playing as banging it out- it's like sort of audio equipment workmen have on a building site. Cheap radio with paint splattered all over it (not unlike my jeans today- I could be in a grunge band!). Rei Kawakubo's Comme des Garcons collection festers inside of me like PJ Harvey's scattered lyrics. Exactly what's festering inside there is anybody's guess. It can't be packaged into a nice collection of words. Fuck- it's not even an
intellectual
collection. Rei Kawakubo isn't some…Stephen Hawking figure. She relies of emotions. On ripping out our guts and then
charging
us money for the privilege.
Man, Rei Kawakubo doesn't even
design
half these things. Nobody knows what goes on at the Comme des Garcons building- the stories change every time you hear it. You go into a bar. And the man in a Pork Pie hat (let's say Mingus is playing) says something to you- gives you in-for-ma-tion regarding the Comme des Garcons process. It doesn't matter what- could be that pigs fly into the offices and deposit ideas sketched out on napkins from KFC which assistants then memorize as the napkins self destruct. Make up your own! I've never heard one where Rei actually designs the clothes that're on the runway, though. As far as I'm concerned it doesn't matter anyway- the pigs flying thing might as well be true (nobody's worked out the purpose of these flying pigs, so this might as well be it!)
Anyway I don't know what PJ Harvey "means", specifically. I mean, I know she's ranting and crying and fucking and yelling about some ex of hers. There's no specifics, lyrically. I don't know whether Jack the Ripper Gets a New Wig, or I Kissed a Girl and I liked it. It's just this metal-machine-rusting feeling. I don't know what Rei Kawakubo "means", if she "means" anything at all. Maybe she just wants to sell t-shirts with love hearts on them.
There's been a lot of whining about the PLAY line, which sells the t-shirts with love hearts. It's a terrible, tacky, tourist-trap of a line. I have no idea who buys them- every now and again I see somebody on the street wearing one. Every time I'm tempted to go up them and tap them on the shoulder and say "hey, why did you just spend an obscene amount of money on a t-shirt with a heart on it?"
Of course I don't ask them and they look like they're Very Busy People anyway. The main point is that this tourist trap makes a lot of money, and apparently that money goes into the show that was about a week ago.
I still don't know what to say about this show, maybe I'm biding for time. There's no analytics that can go into it. It just evoked a kind of dusty feeling for me. These big green jackets, they look a bit dusty. The veils with kisses sparkled onto them in sequins remind me of none other than a very early 70's Karl Lagerfeld collection which had hats with veils going on the cheeks. He called them "little slaps".
You know, there was a bunch of transparent wankerey going on too. All these transparent…things. Cocoons that've come undone and unwound to resemble coat-like-things. Clothing for Edwardian aliens. They're all very blanket like, I think. The flesh-like transparency and the canvas-like greens make me want to curl up in all that multi-thousand dollar anti-glitz. (Oh-there's patterns too. I suppose people will buy them.)
It's a sort of
electricity
that's been cloaked and smothered in a million different layers so that the actual
power
is muted. It's the same effect that Sad Eyed Lady of The Lowlands has on me. Bob Dylan's tired, trampled, cigarette-stained voice with acid hiding somewhere in it. A backing band that doesn't know
when
he's gonna stop. There's a deep sort of power underneath it all, but it isn't 'Let's do it In the Road".
I don't think anybody knows when a Comme des Garcons collection's going to stop either- the show seems to go and go and go. There's only (
only
, I mutter to myself) 48 looks according to style dot com, but there's no hints as to when the final look will come. The progression probably isn't as scattered as it appears- but there's not sign flashing stop.
When this shebang did end I couldn't say anything. I couldn't say anything for
days
, because it was still festering. It'll keep festering until I die or forget about it- there'll always be some part of it stowing itself away like a piece of food set to rot and mold. This is only what I think of it
now
. Maybe tomorrow I'll hate the whole thing- I don't know if I like it today anyway. I don't like it like I like a Yohji Yamamoto show. It's just
there
, and it'll still be there in 50 years. I felt it. It felt
me
and that's more than I can say about the majority of fashion.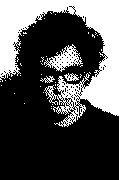 Finally! The flower of Paris fashion week starts to emerge and bloom- chopped up plumages of red and black. Yohji Yamamoto. The quiet gardener. Who gives a toss about Balenciaga now? (Don't answer that.) Sure, the Balenciaga show was terrible- a step back. Costuming for a harem in Arabian Nights- all the draping and tacky satin-like fabrics. I was sighing. But Yohji, you can have my babies and I'll mother them too.
Folks- I don't want to say this show from Yohji was genius. It's more of a slow burner after dark, a study of Bach for the piano student. Up and down the piano passages the student goes until finally she hits upon something. It takes a while to see- you've gotta look closely. Here we have one millon inversions of the coat. They're mostly in shades of black with a bit of red and bizarrely a sort of washed out white. Asymmetry, normally odd proportions and different fabrics- the usual suspects in a Yohji show are lined up here. It's just that it comes out and
hits
you. "Good God!", you think to yourself; "I need one of those!" For a second there you've fooled even
yourself
that you can afford a Yohji jacket.
There's a sort of ritual-quality in this show. Gowns. Painted faces- white. At the very end, models grouped 'round wearing long red coats in a circle. Red Riding Hood and the fashion week of doom? More likely an allusion to Japanese ritual. Plenty of rituals at fashion week- Yohji's show is one of them.
I don't know
what
to say about Margiela. Bodysuits. Shoulders. It's very much along the same course as the last few Margiela collections, sans wit. I've been through the collection several times now: the first time I saw a few things I liked, a few things I didn't like so much. The second time I admired the cubist aesthetic in one of the jackets. The third time- right now- I've got style dot com open and I'm more interested in the freckles on one of the model's backs than the clothes (ironic considering Margiela tries to play down the model's importance. Frankly when a model is more interesting than the clothes, you're doing something wrong or you're selling perfume.)
That's not to say it's a
bad
collection. There's plenty of wearable clothes in it save for the polka dotted abominations at the end- and the bodysuits. Please post all pictures of people wearing Margiela bodysuits to the forums here at largeprimenumbers dot com, please. "Everyday situations" meaning cooking food, or reading the paper- you get the idea. I just thought, uh, maybe Margiela would do something new this season. It's like a "Greatest Hits" album. "Greatest Hits II", seeing as the house put out a 20th anniversary collection not so long ago.
Below: 1 and 2, Yohji Yamamoto. 3, a rather horrible look from Margiela. 4, something more palatable- also from Margiela.