Journal: 12 / 2005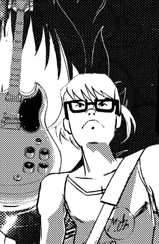 Last night was a year-end party. It was a party I didn't want to go to. I went there and I sat down and I felt like I had a headache. I didn't actually have a headache right away. It took thirty minutes to get there. Everyone was drinking and screaming like something psychadelic. I don't dislike people who drink, or even the idea of alcohol itself; it's just when you get involved with a room full of people who don't have any other hobbies that my hands start to form fists. I'm told that you have to go to these parties or you get fired; people in this office seem to make a lot of allowances for me, and I figure if they're allowed to greet me in broken English in the elevator, neglecting the tradition ??????? they give to the president and the cleaning lady alike, I'm allowed to be different. Treat me different, and I will be different.
Last night, though, I didn't even have the time on-hand to be the
same
. I seriously had to get out of that little restaurant. It either the smoky, chaotic atmosphere or the fact that I had to get up to Itabashi and haul two suitcases down to Minami-Senju as soon as possible. I told the Boss: "Look, I have to move tonight. I got a new apartment, and I need to move things into it as quickly as possible. My, uh, my roommates up in Itabashi are moving
tomorrow
, so I need to get my suitcases out of their apartment
tonight
. They're both on vacation right now. I, however, am not. I don't have the luxury of being able to move out tomorrow. They do. Either way, I need to get up there as soon as possible."
It was past eight in the evening at this point, and the Boss was Just Another Drunk Japanese Guy. "You can't leave yet!! Why, soon, the kljahigahigaihsdihasdhiafilgh is starting!"
I looked him plainly in the eye and said, "I have no idea what the hell you just said."
"The kljahigahigaihsdihasdhiafilgh, son, the
kljahigahigaihsdihasdhiafilgh
!!"
An hour passed, and nothing happened aside from people's facing turning red. At one point, this one guy, normally kind of a cool guy, drank the beer that broke the camel's back and started hopping around like he was on speed. He arranged a paper-rock-scissors tournament for which there were no prizes. Some guy from Hong Kong — just off the plane and not even wearing a suit — won. There was a somber discussion about what to do. I mean, "the man had just won a
contest
. We have to give him
something
." The private room in our yakuza-movie-like restaurant was wide as a Viking ship. I could feel it sway with madness. I was hot one moment and cold the next. I put on my scarf, my sweater. I wrote an email under the table — I can do that, as long as the email is in English — and then set my phone on the table. The phone rang — a piercing ring — in three minutes. I picked it up and ran outside.
I went back in a minute later, to find the tone louder. Someone had ordered me a salad. There are no prices on the menu. The salad was covered in bacon. I had a discussion with one of the boss men, who said, "Wait, I get it, you don't eat beef or chicken, and I can understand that, and you also don't eat fish, which I don't really understand because you eat cheese and eggs, though — hey, why the
hell
don't you eat bacon? It's not a meat!" I stared him down for a half a minute. He was drunk, and the truth was leaking out of him:
this guy graduated from college and ascended to a high-ranking job in one of the world's largest corporations, and he has no clue whatsoever that bacon is meat
. It was a sad revelation. Yet, there you go. People are full of sad revelations when they tell you what they don't know.
Is the knowledge that bacon once used to be a pig necessary for a job in division that makes semiconductors? I guess not. Then again, what knowledge
is
necessary? To tell you the truth, I look at a room full of these guys, and I couldn't tell you what the
hell
any of them do. The boss in this office here — we call them
buchou
("section chief") — I'm . . . not really sure what he does. He's "the boss." Now, as a person who plays videogames, I've been led to believe that a "boss" should be bigger, faster, stronger, and crazier than all of the other enemies in any given stage. The "boss" here is just a normal guy. I guess he studied "business" in college and lists "drinking" as his hobby. Now, now, I'm far above feeling elite around people who studied business. All I have left now is a half a handful of contempt. Here I'll tell the story of the girl I knew in college who switched her major from English to entrepreneurship: that's the end of the story.
My good friend
Shigesato Itoi
has been writing a lot about business lately. His writing is violently, breathtakingly opposed to all Japanese preconceived notions of what a business should be. He says businesses should, ideally, be run by two people with "vision." He predicts that, in the future, businesses
will
be run by two people. Neither one is "president" or "vice-president." Neither one has a title. They both do, fairly, the same thing; the only difference in them is the root: one of them came up with the idea first. One of them has a stronger vision. This is understood, practiced accordingly, and never, ever analyzed. If you
need
people to do busywork within your company, you don't assign them a
leader
so much as you just tell one of them to tell all the others what to do. Guide them well, supply them with tasks, and things should go well.
Itoi is a bit naive, here, though it's a nice kind of naive. That, and this: if you think his ideas sound like common sense, maybe you've never walked into a hip Japanese office building. This place where I work is about 95% facade. We have a sleepy old security man in the lobby who probably couldn't stop a domestic cat. We have these
girls
— this girls who I swear are too good-looking to actually
exist
, the kinds of girls who
no
guy would
ever
talk to in a bar because they assume she's not human — sitting at the front desk in these Star-Trek uniforms emblazoned with the Company logo. They do virtually nothing. They sit at the desk and answer the phone. They forward the phone calls to the People Upstairs. Upstairs, on, say, this floor right here, we have Two More Girls, who do their hair for probably three hours every morning, who are always looking in tiny mirrors and touching their eyeballs, who buy snacks at the cafeteria to deposit on the employees' desks. They answer the phone in the politest, high-pitchedess voices. They act as cute as possible. They forward the phone call to the person it's intended for.
If this sounds routine, ask yourself a question. I don't care what question it is. It can be "what color is the sky right now?" or "
do
I like Coca-Cola?" If the first answer that comes to mind is "I'll have to ask someone else," then you might already been infected. The very simple idea of having a chain of people to relay phone calls is basically idiotic. Now, you might think, well, you need someone to patch the call into the floor, and another person on the floor to take a message if the person being called isn't at their desk, right?
Well, you'd think that if you didn't realize that this is Japan, a country crippled with a(n otherwise lovely and interesting) language that requires one to wrap each sentence of any telephoned enquiry in six sentences of politeness. I'm not kidding. Let's go through it step-by-step. I promise I present the following based on actual conversations as I have heard them and as I have, bullied by circumstance, been forced to have them:
Front Desk Girl: Hello. Thank you for calling ____.
Person Calling: Good morning.
FDG: Good morning.
PC: My name is ______, and I work for _____.
FDG:
Otsukaresama desu
. [There is, sadly, no perfect way to translate this. Literally, you're congratulating the person for being tired or overworked. It's a tradition.]
PC:
Otsukaresama desu
. I would like to speak with Mr. ________ of the _____ department.
FDG: Please hold on a moment.
Secretary Girl: Hello. This is the ______ department.
Person Calling: Good morning.
SG: Good morning.
PC: My name is ______, and I work for _____.
SG:
Otsukaresama desu
.
PC: I would like to speak to Mr. _________.
SG:
Otsukaresama desu!
I shall forward this call to him.
PC:
Otsukaresama desu!
I shall wait patiently.
(one minute later)
SG: Pardon me, Mr. _______; it seems as though Mr. ________ is not at his desk at the moment. Please forgive us there is no excuse.
PC: I understand.
SG: If it is not a horrible trouble, would you leave your name and a message?
PC: I understand. Tell him that _____ of _____ called.
SQ: I understand. I will relate this to him as soon as possible.
(MEANWHILE, IN THE BATHROOM)
Mr. _______ (at urinal): Fuck, man, that motherfucker was fucking drunk as
fuck
, fuck.
Mr. X: Fuck, that fucker's always fucking drunk, shit.
(BACK IN THE OFFICE, SECRETARY GIRL APPEARS BEFORE MR. ________'S DESK)
SG: Mr. ________. [bows] It is good that you have returned.
BOSS: Indeed it is.
SG: To trouble you with trifling matters: a Mr. _______ of _____ called mere minutes ago, asking for you. Shall I call them and explain that you have returned?
BOSS: Please do.
_____ Company's Front Desk Girl: Hello. Thank you for calling _____.
SG: Good morning.
FDG2: Good morning.
SG: My name is _______, and I am calling on behalf of Mr. _____ of ____.
FDG2:
Otsukaresama desu
!
SG:
Otsukaresama desu
!
FDG2: Might I be so terribly rude as to ask with whom it is you wish to speak?
SG: I would very much appreciate getting into contact with Mr. ______, on behalf of Mr. _______ of our company's ______ division.
FDG2: I understand! I shall forward you to his division. Please wait a moment.
SG: I very much appreciate your assistance.
(ONE MINUTE LATER)
SG ON THE OTHER SIDE: Hello. This is the _______ division.
SG: Good morning.
SG2: Good morning.
SG: My name is _______, and I am calling on behalf of Mr. _____ of ____.
FDG2:
Otsukaresama desu
!
SG:
Otsukaresama desu
!
FDG2: Might I be so terribly rude as to ask with whom it is you wish to speak?
SG: I would very much appreciate getting into contact with Mr. ______, on behalf of Mr. _______ of our company's ______ division.
FDG2: I understand! I shall forward this call to him. Please wait a moment.
SG: I very much appreciate your assistance.
(ONE MINUTE LATER)
PERSON WHO ORIGINALLY CALLED: Hello. This is ______.
SG: Good morning.
PC: Good morning.
SG: This is ______, of ____'s _____ division, calling on behalf of Mr. ______.
PC:
Otsukaresama desu
!
SG:
Otsukaresama desu
!
PC: I appreciate your getting back into contact with me.
SG: To be terribly rude and to the point, I would like to ask: Are you free to have a telephone conversation with him right now?
PC: Yes.
SG: It is with much shame that we pull you away from your busy duties!!
PC: I can make allowances.
SG: Would you terribly mind waiting a moment while I connect him to you?
PC: Not at all. It would be a pleasure.
SG: Thank you very much for your understanding.
PC: I understand.
SG: Please wait a moment.
PC: Yes.
(ONE MOMENT LATER)
BOSS: Hello, this is ______.
PC: Good morning.
BOSS: Good morning.
PC: This is ______, of _____'s _____ division. I called you earlier this morning.
BOSS: I apologize for being unable to accept your call at that time.
PC: It is I who should apologize for calling you while you were busy.
BOSS:
Otsukaresama desu
.
PC:
Otsukaresama desu
.
BOSS: Yes.
PC: To be horribly blunt and to the point, I am calling you to indicate that we in this office have just received your New Year's card. We accept it humbly.
BOSS: I am pleased!
PC: It is a great honor.
BOSS: Thank you!
PC: We look forward to prosperous relations in the next fiscal year.
BOSS: As do we!
PC: It has been a pleasure working with you this year!
BOSS: We think the same.
PC: We will appreciate any opportunity to continue doing business with you.
BOSS: Thank you. We will likewise appreciate it.
PC: Thank you very much. Please regard us fondly.
BOSS:
Otsukaresama deshita
!
PC:
Otsukaresama deshita
!
(ONE MINUTE LATER)
SG: Boss, sir, to terribly trouble you at your busy time.
BOSS: Yes?
SG:
Otsukaresama desu
.
BOSS:
Otsukaresama desu
.
SG: The mail has arrived, and with it, this New Year's card from the ______ division at _____ Corporation.
BOSS: We will need to ready the phone.
And the cycle continues. This is how the Japanese language works. It's no wonder all of their independent films feature excessive sado-masochism and long montages of nonsense: to hear and understand their language as an outsider paints them the color of word-fetishists. If you ever, ever question the verbal practices of this language, which requires you to treat the old lady at the gas company reception desk like she's the shogun's daughter, people will tell you "This is how it must be." Either that, or their face will screw up and they'll start stuttering.
We have a decent-nice guy in our office. He's the only one here younger than me. He's a nice guy. I thought he was like thirty; it turned out he's just a smoker. His phone dialect is breathtaking. He strings together those words and he makes himself known. He gets the job done. He barely rests. He's on the phone calling licensees and publishers. He's talking to people in Hong Kong and England. He goes everywhere from the space of his desk. At karaoke he sings Mr.Children. When the bosses go to smoke, he does too. One guy kind of yells at him a lot, and he blinks, and genuinely takes all of the yells for suggestions. He owns a motorcycle, though considers the very object childish. He is a young man who is, at this point, posing as a not-young man. He wants to hide his hobbies away. He doesn't
like
the idea of becoming like one of these leather-faced robots; yet he likes the idea of doing something, of tricking his elders into thinking he's as good at what they do as, well, they are. (Though, if you ask me, anyone is.) When they go out to drink beer and eat sushi, though this young man may have foods he vastly prefers to sushi and drinks he vastly prefers to beer, he will eat sushi and drink beer as though they were his first and last loves. In the end, his own trick will trick him; he will realize that two decades spent answering phones has only earned him the right to have phones answered for him. He will learn that it was his brand of supposed trick, the make-vanishing of his hobbies and his desires in the name of comfortable living, that enticed, intrigued, and lulled all of these drones into what they do. They prepare meetings to pitch ideas to a man they meet once a month, a man who also has loves and hobbies and desires, a man who has foods
he
likes better than sushi and drinks
he
prefers to beer. They will speak politely to him and take him to drink beer and eat sushi. They will never know what he would prefer — nor will they ever question what they would prefer — because these people, like most in the modern age, though they use words, they speak no meaning. It is a frightfully saddening experience.
And I'm still a really good liar.
I've been telling these people that I've been staying in an apartment in Itabashi. I say, every day, I get on the Marunouchi Line, ride it to Shinjuku, and then get on the Saikyo Line up to Itabashi. Only once did I ever get trapped into having to actually get off at Itabashi Station. There was this woman from my section who lives up on the Saikyo Line. I happened across her in Akasaka-Mitsuke Station on the way out of work. Hell. I had to go all the way to Itabashi with her. Since then I've avoided leaving at the same time as her.
You see, this is because I haven't been staying in Itabashi. I'd been staying on the streets of Minami-Senju, and easy enough street to live on. They have a Saizeriya and everything. I didn't tell people at my company that I was living on the street because a friend (who has worked here for years longer than I have) told me not to let people know. "They might fire you if they find out you're homeless." I guess my friend was right. I've been taking showers downstairs, or sometimes just washing my hair in the sink. I have shampoo in my desk. Tonight, I'm going to put it in my backpack and take it down to Minami-Senju, and hopefully have an inaugural shower (if the gas gets turned on (yes, you need gas to take a shower here)).
Technically, the only things of mine that were left in Itabashi were these two suitcases in Drew's closet. Drew was moving, and so was Nick, so I had to go up and get the suitcases. Conveniently, I had secured the key to an apartment in Minami-Senju that morning. So last night I had to actually, really get back up there. When the coast was clear, given the okay from a co-worker who used to play guitar in a Huge Japanese Rock Band, I flew out of that little restaurant, down the hill and into the bar-lined frigid streets of an Akasaka-Mitsuke that sat on the end of a collapsing year. I could see my breath. Between Chinese restaurants with floor-to-ceiling windows, amber ligths glowing inside, massage parlors, and cobblestones, I skipped, and found the station. I rode to Shinjuku, took my gloves off, and got swallowed into the station. It was oddly less crowded than it had been on Monday night. I breathed deliberately. Up and down inclines, ramps, stairs, under ceilings I could touch. I bought a ticket north and found the JRail entrance. Twenty-eight staircases spread out before me in a white-lit hallway. I found the Saikyo Line platform and stepped up.
The train pulled away just as I reached the top of the stairs. The sign said the next one was coming in ten minutes. This is why people hate the Saikyo Line. It has the fewest trains of any overland line in Tokyo, and they tend to be the most crowded. It is, in fact, considered The World's Most Crowded Train. The urban legend is that they don't increase the number of trains because they would lose their statistical foothold. All aspects of the nation need to think of the tourism industry.
If the Saikyo Line were a blood vessel, it would be the Femoral Artery. It's not the most famous blood vessel, though hell if you couldn't live without it. This city would be shitty without the Saikyo Line. Hundreds of thousands of people who live up north, in Saitama, wouldn't be able to get to Tokyo (where they would then proceed to sit at a desk and talk on the phone about talking on the phone while sitting at a desk). And when the working day is done, they wouldn't be able to get back. You see, another of the Saikyo Line's most famous tricks is that none of the cities along its stretch have any entertaining qualities about them. So you
need
to take that line, and go somewhere (anywhere) else if you're looking to enjoy something you enjoy. I personally gave up the Saikyo Line because I was tired of its bullshit. I was tired of sometimes having to wait thirty minutes for a train. I was tired of living on a local-line stop that the express constantly blew by like a dog on fire. I was tired of the non-express stop I lived at being one of the only stops on the line the express doesn't stop at, anyway. So I got out. I left that suitcase in the closet and just took to wandering again.
The phrase "needlessly complicated" doesn't
begin
to describe my home-finding process. As a person with less than two years' experience at my current job (which requires no experience outside of a personality), with no family, no wife, no dog, and (worst of all) no business card, real-estate agents just wouldn't believe me. The apartment I finally decided on — which pleased aniki muchly — turns out to be just a two-minute walk from the mouth of the Hibiya Subway Line's Minami-Senju Station, and within five minutes' walking distance of a brand-new, morbidly large shopping center that houses a late-night Saizeriya (with 100-yen drink bar as opposed to 189 or 269 (that's the Ikebukuro/Shibuya prices)), a full-sized Tsutaya (Japan's Blockbuster Video, where you can also rent CDs), a Keisei supermarket (with a bakery that sells
football
-sized cheese-filled French breads), an epic 100-yen shop where I'm going to buy all my kitchen supplies (and a laundry pole — I mustn't forget the laundry pole), and a rooftop-mounted health club featuring two Olympic-sized swimming pools. There is also, bizarrely, a fast-food Mexican restaurant called "Taco Time," which the owner says they have in the Pacific Northwest of America. Maybe, huh? It's the only franchise Mexican restaurant I've
ever
seen in Japan. (If you remember my landmark "photo of a Japanese taco" from a while back — yeah.) They serve a vegetable burrito, which has everything I'd ever want on a burrito . . . except beans. There's not a bean on the menu. I don't understand this at all. The Japanese will gladly pressure foreign people to eat
natto
, which is essentially fermented soybeans (looks like beans floating in snot — seriously), and they'll say that
natto
is very, very healthy for you, and then they'll flatly
refuse
to sell any beans at all in the context of deliciousity. No refried, no black beans, no pinto beans. I tell you,
those
are beans. And if you try to tell me black beans are less healthy than snot-beans, I tell you to quit making shit up.
Anyway, yeah, this apartment went through. I sent them the money — about $4,000, is what it took, though hey! I'm rich now, anyway! I've had a couple tens of grands in the bank for a few months now. I was glad to finally find someone willing to accept it from me. My apartment building is brand new. I have a
bidet
and everything. It's high-tech as hell. There's a metal shutter I can pull down over the sliding glass door. It makes the room absolutely pitch dark, which amazes me. I've never seen such a dark room in my life. Somehow I also managed to find a room with 12-foot ceilings, which might be annoying until I get enough furniture to dampen the echo. The apartment is one big room with a small kitchen, a good toilet, a huge bath/shower, and little buttons and switches everywhere. I have one of those super complex heaters. The floor is brand-new, and feels nice on my bare feet. The only furniture in there at the moment is a floor lamp I bought at MUJI for about $80. It's a wonderful lamp. MUJI is just wonderful in general. I'm going to get everything from there. First I just need a futon. And the rest of my luggage. When I took that picture of the lamp yesterday morning, there was nothing in my closet. All I had was a garbage bag of clothes where the washing machine is going to go.
There was a scare a couple days back wherein the realtors called me to acknowledge they'd received the money and were ready to give me the key, and then called back four hours later to profusely apologize, saying they'd return the money; they repeated the phrase "I AM SO SORRY THERE IS NO EXCUSE" every time I tried to ask what was wrong. I got my friend Ken K to call them up, and the next day, the record was straight. I finally got around to asking Ken, yesterday, what the heck was their problem all of a sudden? He said, they'd forgotten to tell me that the landlord was only accepting female tenants. I told him, well, did you tell those fools that they should have told me that before taking me to see the place, and definitely before showing me the contract? Besides, the building is two floors, with only four apartments. There is no hallway or walkway or elevator. Just me, and the door. Come on. He told me, yeah, he told those fools that, and the landlord (a man, yes, who lives on the top floor) compromised. Damn it. Within a year, I'm going to own my
own
apartment building. I almost did it this time, to tell you the truth. Then I got rejected. Well — we'll see what the future holds, after we see what yesterday and today held and hold.
All day yesterday, in between worries regarding entertainment centers and bookshelves, I thought of the task ahead of me. Then they pull me out to this party, order salads for me, each of which is coated with bacon or some other kind of fish, and I catch one girl whispering to another that I'm selfish and picky for not eating the salad. I'll no doubt get hate mail about this very writing telling me to stop being such a fucking bitchbastard about my vegetarianism. Well, fuck you! I quit meat because I didn't want to eat it anymore. I don't like its texture and smell. If you find this hard to accept, ask yourself if there is anything in this world you do not do, or do not like. It's simple! I won't make a big deal out of choice of what to eat if you won't! That, and don't ever,
ever
,
ever
order food
for
me. I eventually asked the waitress if she could get me a salad, and I described the salad down to the very last vegetable. It came with a fine vinagrette. I must have eaten it in forty-five seconds. A confidante told me hours later that one of the girls had, again, shaken her head at me, for eating the salad so quickly. There's just no pleasing people.
I had to give a speech at the dinner, and I'm not sure what about. I gave it, though. Mostly I just got laughed at. People were drunk to the point of being figments of a drug addict's imagination. My escape was welcomed. I was counting things on my fingers all the way up to Shinjuku. On the Saikyo platform, I was thinking about shelves. Shelves to put things on. I was also thinking about HDTVs. I need to play that Xbox 360 on
something
. As it is, it's still in the box, in the bag, on the floor of a house that isn't mine. The person who owns that house beholds an Xbox like your mother would behold a dominatrix outfit.
When the Saikyo Line finally came, it was a special that terminated in Akabane. What the shit. That's just bitch-slappery. The Saikyo Line can be such a tease. I mean, it starts in Shibuya. The next stop is Shinjuku, then Ikebukuro, then Itabashi, then Jujo, then Akabane. Six stops! What kind of shitty train line is that? The city I was going to was Ukimafunado, in Itabashi ward, just two stops north of Akabane. So I'd have to get off and then wait for the next train up. I did this. I waited on the platform for fifteen minutes in Akabane. The train came, I got on. It stopped in Kita-Akabane. When it was on its way out, it stopped dead. Ten minutes passed. The people on the train chattered in a lively fashion. They normally don't do this. Well, now, New Year's is coming around, so people change. They were talking. They had kids on their knees. They were all going back home, after a long day of walking around and looking at places they normally don't exist in. At the end of the year, locking eyes with a lone woman on the train is a different experience than usual. You can feel a different electricity. It's warmer in there.
The heater cut out of the train. The announcer came up and said there had been a suicide south of us. So now we needed to go straight to Omiya. Like a dog on fire, the train streaked right past where I wanted to get off. Oh, hell. Fifteen minutes later, I got off the train at Omiya, capital of Saitama Prefecture, and headed back south on the next local train. What a slow ride. I got back off at Ukimafunado, ducked into the supermarket, bought a Fanta Grape and a bag of popcorn, and headed to Drew's place. I whipped out a trash bag and went abotu preening my suitcases. I got rid of paper waste, movie tickets I'd thought to keep indefinitely — just tore the shit out of the thing. I was throwing away T-shirts and belts and everything. Leaving only stuff that I wouldn't mind keeping in a suitcase in my closet. I didn't even want the damned things. They didn't match my current aesthetic. For two years these two suitcases have kicked around various houses in all corners of Tokyo, and they look like whores to my eyes now that I have a house of my own. One of them short, one of them tall, both of them heavy. I put my American PlayStation2 in one of them. Drew walked me to the station with the little suitcase, promising to come up to Minami-Senju once he starts his new job in that very area. We can hang out in that floating Saizeriya of Dreams, the one that looks over the reservoir reflecting tinkling lights, lonely people pushing bikes.
It turned out that the next Saikyo Line wouldn't show up for a half an hour. We killed some time in the used book store, pulling the suitcases around in a circle and confusing the customers. The girl who works there — Takasaki-san — is too good-looking probably to be real. I'd call her the Number-One Tourist Attraction in all of Itabashi-ku. I always wanted to say something to her, though I'm afraid she wouldn't say anything back, just turn into dust.
At Akabane, eventually, after a battle involving an outdoor escalator in deep winter, I had to change to the Keihin-Tohoku Line for Ueno. Only the trains weren't moving. I waited on the platform close to two hours. It turns out there had been another series of suicides. I reflected that the suiciders were probably people who just got out of a year-end party, were drunk, and felt horrible. Well, smashed by trains, now, they're soup. Soup can't answer questions, and chefs usually don't have a whole lot to say about soup. A man in a yakuza jumpsuit was hopping mad that the trains weren't moving. A woman in a fur coat stood next to me. She had a good face. Fur, though. What a turn-off. Again, nothing to do with love for animals. I hate animals; burn them all. I don't eat them because I hate them. Yeah, let's make that my new credo. Either way, fur coats just look so tacky. And she was young, and with a good face. What'd she have to go and do something tacky like that for.
The platform gradually filled up. Soon, me and my suitcases were toes-to-the-edge with the platform. A security man told me to back off. He said it rather kindly. The hopping mad guy was now stomping. He ventured to lecture a bucktoothed railway man who had seen the type before. He said, "This is your responsibilty! You're
responsible
for making these trains run
on-time
!" The railway man said, "I understand your feeling; I apologize, there is no excuse." His punctuation was weird. The guy then told him, "No, you
don't
understand. I have places to
be
." People like him don't really get it. He probably worked at an indoor
driving range
or something. He didn't understand the painstaking series of politeness-wrapped phone calls going on behind the scenes to ensure the dead bodies get cleaned off the tracks and are accounted for properly.
Midnight came and went. Trouble on the Saikyo Line, you see. Another suicide. Quick question: was this the work of a cult? No, cults tend to take suicide more seriously than this. It was just because it was the end of the year. I felt awful. My wrist was killing me. At Nippori Station, switching to the Joban Line an hour later, I'd fall on the stairs and bang up my knee. That's what you get, I guess. Concrete stairs, no escalators, giant suitcase, people pushing you without saying "Hurry up." Before that could happen, I'd be concentrating on my wrist. I'd been slammed in the face with a standing man's backpack while casually walking up an escalator three days ago. I cut up my palm on the toothy edge of a stair, and I think I tore a ligament or something. The man didn't even say anything to me. Big fat guy. Stubbly. Must have been a gamer. He looked down at me. I squinted. I got up. He looked away. Three days later, the lighter of my two suitcases was about thirty pounds. That wrist felt like my hand was about to break off. When the train came, I got stuffed into it like cotton in a teddy bear. It would be the last train of the evening. Nippori would be hell, I knew, because everyone would be rushing to get
allll the way
to the last Joban Line. All of these are open-air stations. The wind whips in. The heaters are on low in all the trains. I rode with my face against the window, witnessing the world without the windows on a speeding, freezing night.
My lord, what a desolate place we occupy. It was all darkness punctuated by orange electric shines on gray concrete; nothing living stood to bend, to prove the prescence and the temper of the wind. People chattered cheerfully to friends or relatives they hadn't seen in, well, probably about a year. The end of the year is ripe for opportunities to do things you haven't done in "about a year." Trains get delayed because people decide the end of a year is the best time to die, or because way north, in cities our schedules don't allow us to see, snow is falling, and grinding everything to a halt. I closed my eyes and thought of the city where snow falls.
For four years
, I suppose I've been worth nothing. Now I have a place to live. I don't feel like I
want
to live there, essentially, though I suppose I've never really
wanted
to live anywhere. To divide human beings into two broad categories, there are essentially those that don't want to die and those that do want to live. I suppose I'm one of the former. Renting my first apartment has brought out that ultimate question, and its answer, for me. There are sacrifices I've made to assure that I'll have a place to feel temporary comfort, and though I suppose everyone feels something similar, until now, I've not had to care about that. It feels, lately, that with every action, I'm giving something up. I suppose there won't be anything left sooner or later. I suppose you could say the same thing about anything.
I want to
see
the city where snow falls someday. I want to be stuck there for a night, in a sleeper car of a train, in a warm place where the window is frigid. Never hungry or thirsty, never having to use the bathroom. Just let me watch it snow forever on a field that doesn't end. I imagine it would feel a lot like the Unicorn song of the same name sounds.
Eventually the Joban Line found Minami-Senju; I pulled my suitcases up the bike ramp. I rolled them right into my living room. I put them in the closet. I popped my Xbox pillow ("It's Good to Play Together," says the inscription) on the floor and lay there. My floor. The first floor I've ever been able to call my floor. I was engulfed in a sick fantasy to never, ever invite anyone into that room. Then I changed my mind. I might as well.
It was then that I remembered the cardboard box of things in Drew's house still.
I'll need to ride that train again. It'll be the last time, this time, I swear. I hadn't even bothered to think of that time last night as the last time until after I'd already lain down on my floor with my pillow. So if I go back on Friay, will the opportunity again present itself to look at Takasaki-san? Maybe I'll write her a letter and give it to her, like something out of the shojo manga she's always reading. Maybe she'd like that. Ah, who knows. What would I say? "I think you look really good. I know nothing about you otherwise." That's not good enough. There's been too much pause. If you want to catch someone and make them yours, you have to catch them right away.
Ahh, tonight. Tonight I'll go to MUJI and buy a futon and a futon pad. The blanket I want is going to cost about $500, though let me tell you — if you've never used a $500 blanket, you don't know what you're missing. I'm accepting only top of the line here. (Okay, so top of the line would be like $5,000.) That, and futon covers. Brown ones. Brown and off-white everything. If I get any wood, it's going to be oak. Pine is so tacky. Birch is too moody.
I don't even really realize what I'm writing anymore.
Anyway, have a nice new year. I'm planning a curry party in a couple of weeks. Two of the programmers from
Ryu ga gotoku
and some other fun people might be there. If you, my darling,
one
reader, are reading this, by all means, come on down.
I end this by saying:
FFD: I DON'T NEED YOUR XBOX ANYMORE — WHEN YOU GET BACK TO JAPAN, COME TAKE IT OFF MY HANDS; CALL ME WHENEVER; WE CAN GO TO SAIZERIYA in MINAMI-SENJU; OKAY GOODBYE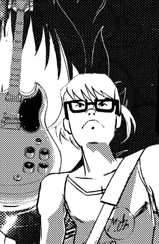 Last night, I saw a dream
. Basically, the dream was what all good dreams should be. It had all the elements. For example:
1. It involved a videogame I would like to play.
This was a new shooting game by
cavia
, which wasn't tied down by the Ghost in the Shell license. In the game, I was playing as some kind of marine who was infiltrating a mansion where some religious cult was set upon destroying the world. It was third-person, it played like
Stand Alone Complex
did, and then — before I knew it, I was
in
the game.
2. Yeah, the Terminator was in there
. Before I could even kill anything — who did I meet in the elevator? Arnold Schwarzenegger as the original fucking Terminator, that's who. He was standing against the ridge in the back of the elevator, and I saw his reflection, and pointed my gun at him. He stepped out and there was a big orchestra hit and we were face-to-face. Definitely the original Terminator. He was wearing the sunglasses and the leather jacket and everything. I swallowed hard — yeah, he was probably going to be not nice. Yet then he starts talking, kind of lightly — he was definitely the "Terminator 2: Judgment Day" Terminator when it came to speaking. So he tells me we needed to plant 75 bombs in a total of three zones — the mansion, the mountainside, and the lakeshore village — before we could truly eradicate the threat. If we didn't kill this religious cult, then "The future will be very grim." "How grim?" I wagered to ask him. "Very grim," he replied. Such is the judgment of a robot. He was all business.
3. It disintegrated into complete, complex nonsense.
When the elevator finished its ascent, we were back on the first floor of the mansion, where we'd started. Still no religious cultists, though for whatever reason, our traveling party now consisted of Me — or, well, a version of me with
fantastic J-rock hair
, the Terminator, Gollum from "The Lord of the Rings," and Hermione Granger from the second "Harry Potter" movie. You know, back when she still looked like a little girl. Back before she had bazookas. None of these people talked, or did anything other than look exactly like what I remembered them as looking like. We wandered outside the mansion, walked down a very short stone staircase, and we were in the lakeside village, when Gollum turns to Hermione and screams: "She tooks the precious!" He was, of course, referring to her machinegun. Suddenly, he launches into a soliloquy about how everyone here has a machinegun except him. He then says that, in order to prove why she deserves a machinegun, Hermionie should have to face off against him — in a jazz trumpet showdown.
4. It then became something that bored even me, told me it was all fake, tempted me with the freezing, icy world I would awaken to when at last I did awake.
Hermione says that her skill at a trumpet has nothing to do with her skill aiming a machinegun, and Gollum won't hear any of it. The people of the village — they're all actually zombies — are assembled, and there's the Terminator, standing amongst them, getting chewed on. Cyborg flesh being ripped off and spit out. The sky goes from ice-white to hibachi-smoke-gray in a heartbeat. Rain is about to fall. It never will. I'm up there on stage, shrugging. How am I going to be able to judge one jazz trumpeter as better than another? Gollum has his trumpet, polishing it lovingly with his fingertips, cooing at it. Hermione holds her machinegun close to her chest. She won't let go of it. Gollum is first up — I've decided to go alphabetically. Gollum puts the trumpet to his lips and blows as hard as he can. It makes a terrible noise. Zombies' heads start exploding. Gollum seriously can't play the trumpet worth shit. I finally pull the trumpet away from him. It's Hermione's turn. She clears her throat at the microphone and then motions off-stage. Up saunters fucking Dizzy Gillespie, in the fresh, back from the dead, looking only a little zombified. He plays a hell of a mean trumpet. The zombies in the audience actually clap. Gollum jumps and stomps with this spiteful, hateful look on his face. "No, no, nooo! The precious doesn't understand, preciouses! The precious cheatses with the precious!!" Hermione, hands on her hips, says to Gollum, "No. I don't see how this is cheating. First of all, you bring your challenge out of virtually
no
where. A jazz trumpet contest has no connection whatsoever to an assassination mission. Furthermore, forbidding me from summoning Dizzy Gillespie from the grave is not unlike hiring an accountant and telling him he can't use a calculator. Forbidding a practictioner of a skill to use all of the tools readily available to her is to deny her of any skill at all." Gollum continues stamping. "The precious! You were supposed to
win
, precious." Says Hermione, "I
did
win." Says Gollum, "Precious was supposed to win by her
owwwwn
!!"
And I snap awake, throat dry, beneath a raging heater. These are the dreams we have in beds on which we've never slept before. New places, new tides, new movements, new everything. I have a bottle of Fanta Grape sitting in the middle of the floor. It's kind of a weird temperature. The outside of it is warm; the inside is cold. I take a drink, go to the bathroom, lie back down, look at my cellular phone. It's one in the morning. I went to bed at eleven. I feel like I've slept for six hours.
I didn't get much more sleep last night. It must be all the time I'm spending playing the awful
Kingdom Hearts II
lately. I thank the shit-artisans ("shartisans" — double-chain-link summon-spell SCORE!! KEYBLADE!!) at Square-Enix for the influence they exert over my dreams.
I haven't moved yet. I will soon. I'm going to look at a place tonight, a place in a city the name of which is very thick with the meaning of fate. The city is Tawaramachi. That's west of Asakusa. Literally — walk west for about five minutes, from the Gate of Thunder, and there's a street. Cross it, and Tawaramachi. There is where you are. My absolute hardheaded refusal to live anywhere else has doomed me into a red-painted corner. I want Tawaramachi because it has
1. Three supermarkets (Seiyu, Akafudado, and Life — yes, Life, once just a magazine, a cereal, and something you do when you're not getting laid is now a Japanese supermarket)
2. A
Saizeriya
3. A Matsumoto Kiyoshi drugstore (they are better than other drugstores)
4. A large, 24-hour post office (the Asakusa Post Office)
5. An AMPM convenient store (my bank, Sumitomo-Mitsui, has free ATMs at AMPM)
This is about all I need. If this apartment I'm going to look at tonight is all right, then I guess that's where I'm moving. I've looked at
nine
apartments in the area, and this one is the only one I get kind of a good feeling out of. I was talking to my realtor — I guess when a young guy has shown you
nine
apartments, you get to speak about him like he's an object you possess — and he told me it's "awful fishy" that a man who hasn't had his own home, well,
ever
is being this picky about where he's going to live. I told him, part of the thing about being homeless is you learn exactly how easy it is to quickly get tired of something or somewhere. I went homeless, in the beginning, because I was tired of things in general. I guess. Gradually, these things happen. You get tired of things. Most people have a higher attention span than I do, so it takes them longer to get tired of things. So yeah. I told this guy — he has bushy hair, is about a foot shorter than me, has a shitty little mustache, and is only twenty-three years old, yet so mature — I want to be very careful to select a place I'm not going to get self-destructively tired of in a month or two. He just kind of swallowed at my explanation. Here this guy is — he runs a shitty little office in Ueno, and I'm promising to make his business into a man. I'm not going to pay more than any other customer — in fact, I'm going to probably end up taking the cheapest place he shows me (though he is, to be fair, only showing me reasonably expensive places) — and I'm certainly not going to go easy on him. I'm not going to go out of my way to
teach
him anything. I'm just going to be kind of annoying. A trial. Let's see how long he can hold out on his obligation to Help the Customer. It's a test of character. Though not for me, hell no, not for me — his journey is just beginning. My journey is kind of ending. I don't mind it so much, either. Because . . . I don't know. I guess there's something else. Who knows.
I'm not here to provide any answers about anything today
. All I'm going to say is that this morning — or this morning and last night conspired to form, in me (if you wanted to get technical) — I scored a Tokyo Tetris. You see, a Tokyo Tetris is when you arrive at a destination with no coins in your pocket. Yes, this is a good thing! See, Japan is a coin culture. The smallest bill we have here is 1,000 yen — about ten US Dollars. You break one of these to buy a Coke in a vending machine, and you end up with 880 yen in coins. Maybe a five hundred, three hundreds, a fifty, and three tens. Vending machines never use five-yen coins or one-yen coins (God no). So five-hundreds, hundreds, fifties, and tens. That's all you get. Anyway, like a good American mother, I like to count out pennies (one-yen coins) whenever I go shopping at the grocery store. I'm not a penny-stacker, or a penny-pincher, or a penny-hoarder, even. I think that people who keep jars of pennies on top of their refrigerator or somewhere are horribly lazy, inept human beings. They don't understand that the most pennies you'll ever need to carry at any given time is four. That's not asking too much. I find pennies a cruel, noisy baggage; I think we would be well off to round them out of all the earthly currencies. Korea has done that, for example. Then again, they have ten-Won units, which are worth about a penny, anywyay. They need to take another zero off,
then
drop those coins. Then again, that country has no bills higher than the equivalent of about ten US dollars. So yeah — their maximum is Tokyo's minimum.
Last night, at a Seiyu (Say me) grocery store, I bought a piece of jam/margarine bread for breakfast, and that one-point-five-liter bottle of Fanta Grape. I'd finish the Fanta this morning. My bread was 82 yen. My Fanta was 176 — well, 156, after I used a twenty-yen-off coupon that had been positioned near the beverage section. "20 yen off Fanta Grape 1.5-liter bottles." I got a whole stack of them. They expire on January 9th. My lord, if I move in to this apartment this week, I'll promptly go to the Seiyu across the street and buy all the Fanta Grape bottles I can carry. In three trips. I'll fill my living room up with them. I can't get enough of that stuff. Anyway. 82 plus 156. 238. I spent 238 yen. Well — actually, I had three hundreds, a five, and exactly three ones. I handed them all over. I got seventy yen in change. I put it in my pocket along with two hundred-yen coins, a fifty, and two ones. I held my hand in my pocket for a second, and thought of the morning. Oh hell. Oh hell — could it be? Could it be I have a Tokyo Tetris lined up? Slowly, the four-bar begins to fall from the top of my life's screen. The winds have conspired to bring about this night.
I like the new cash registers in supermarkets in Tokyo, by the way. Big plastic contraptions. They have the viewing screens of newer registers, and the flashing numbers of older ones. They have the pad for accepting cashless cash. A receipt prints out. The total is announced. There's a big gaping coin-hole and a bill acceptor — these bill acceptors must involve
lasers
of a frightening caliber, these days. They can suck in the wettest, crumpledest bills before you can blink twice. You give he old lady your coins, and she drops them in the hole. A second later, the machine spits out the change into a perfect circular bowl.
Thinking of solid constructions, I sleep. I wake up with 340 yen in my pocket. I buy a 150-yen ticket, get on the Saikyo line, and ride to Ikebukuro. I get off the train. I go to the Marunouchi Line ticket-vending machines, and I buy a 190-yen ticket with my remaining three fifty-yen coins (used the two hundreds to buy my Saikyo ticket) and the four tens. My pockets are now dead empty. I feel a horrifying, beautiful lightness. This lasts until — well, a half an hour ago, when I went upstairs to byu a Coke, and needed to use a thousand-yen bill. Only the vending machine up there, which stands in the middle of the smoker's lounge and is wreathed in cancer, doesn't accept bills. So I bought some chocolate biscuits for a hundred yen, took my change (a five-hundred and four hundreds), bought the Coke with two hundreds, got a fifty and three tens in change, and came back downstairs. In the elevator, J-Rock Hair-Guy glared at me like a videogame character, and let out the most spiteful "Good afternoon" I've ever heard. Or well, that I've heard since last week, when he first greeted me that way.
I don't know his name, or more importantly, where he got that hair. It's a big mess of hair. Like a tipped beehive of coal-black cotton candy. He soaks it in some sweet liquid, folds it over his head clockwise, and sets off downwind, running from insects. He wears jeans that are torn up and splotched with bleach. Sometimes those jeans are stained a urine-y shade of gold. I wonder about him. Today he has a goatee about as thick as rat fur. He's curious.
I wonder where he is in the toilet. I pour a cup of tea at ten-thirteen. It is cool enough to drink (it starts out molten) at ten-twenty-two. I sit at my desk and check my email, and think about small victories. I drink that tea, it loosens up everything inside my body, and before you know it, I'm shitting again. Like fine Texas oil of an oatmeal viscosity. It runs hard and soft. I'm pleased by the action. I figure you're never too young, or too old, to take pride in your body doing what it can do. All the little fields we invent — jazz-trumpeting, file-managing, or pole-vaulting or whatever the case may be — are merely extensions of bodily functions. Creative extrapolations. I figure, if a man can be hailed as a hero to millions for running a good fast marathon (merely exercising human motility), I can at least feel good about myself for keeping up an unbroken series of thirty-six steady shits.
And then he arrives
. My arch-nemesis, whose face I have never seen. He happens to stoop into the toilet every morning around ten-thirty, these days. When I hear his scrunching footsteps, and I know it is him, I know that my bowels will turn this car around and go right back home if I don't let it all out as quickly as possible. I let it ride, I clean myself up, and I get out of there. I scan the office, looking over all the faces, memorizing them:
all of these men are clean, if they are not this man who is not
. And then I feel dirty, like I've just brained an old woman and stolen her groceries, about the way I'm treating my feces. It's not human. It's not proper. Well, not today. Not this today, not this right now. Today, I had not yet begun to fight when this guy shows up brushing his teeth while shitting, pissing, and using the bidet. I can hear the turds plopping into the bowl, splooshing around in there, I can hear the peepee kicking up a small diameter of wake. I can hear him scrubbing the life out of his teeth. I can hear him cease all these actions, hear his pants ruffle and belt buckle
clink
on the floor as he parts his knees and hacks up a mighty spit into the toilet. Today, I sat in there shitting calmly for ten minutes, again wondering what nasty sight this man would make face to face. Is he huge? Does he have claws? He certainly has a lot of
teeth
. The brush against them makes the sound like a civilian mob armed with hoes and straw brooms fighting off a jabberwocky, when the jabberwocky's winning. He must be a beast. He wages his battle. I wage mine. Usually, I calmly get out of there. For two weeks, when they were fixing the plumbing through the whole building, the hot water was off, so I'd stopped washing my hands in the toilet and started washing them in the kitchen — this week, the water is back. Even so. Today, I made a point. This man was still scrubbing the life out of his teeth when I got up to leave. Once I realize no one stood pissing at the urinal, I seized my stall door and slammed it as hard as I could. It made a sound like a judge's gavel shattering a coconut. All sound stopped. You could have heard a pin drop. I stood outside the toilet door, breathing. Waiting.
The scrubbing came back.
The pause indicated shame
. A big, gorilla of a man would have continued undeterred. Rather than dream that this man keeps a collection of children's skeletons under his house, I started to think that perhaps he was yet young, that perhaps someday, for reasons he wouldn't understand, he would lash out and blind a stable full of horses with a screwdriver.
Ahh, who knows.
I shit again later, just a while ago, anyway, and no one interrupted my by brushing their teeth. I did note, for the dozenth or so time, the most peculiar thing, though. The toilet seat-heater was off. Why was this? I flipped open the console and tinkered with the settings. A telltale beep told me the seat was ready to heat. I didn't feel it. I sat there thinking about my peaches. I bought a can of peaches five days ago, thinking I'd peach up my pasta dinner by having good cold canned fruit for dessert. Well, I put them in a porcelain bowl and put that bowl in my freezer. I ended up eating so much pasta I couldn't have fit a single peach quarter in my stomach if you'd put a gun to my head. I forgot about the peaches, anyway. In the morning, I remembered them. They were frozen like a bone. I put them on top of the microwave and forgot them again immediately. That night, I thought to eat them again, and they were too warm. I put them in the freezer, ate too much, and didn't eat the peaches. The next morning, they were frozen again. I set them atop the microwave, made myself a slice of cheese bread, and sighed. I wanted peaches. I put them in front of the heater. Nothing. I put them in the microwave. Nothing. I put them in the microwave again. They were still a block of ice. I tried harder — five more minutes. In the end (weak microwave), the ice had melted around the edges of the bowl, yet the peaches within were still joined in unholy chemical bonding. The rim peaches were red- (or, uh, orange-) hot. The bowl was a breeding ground for influenza. I ate them anyway.
In light of the peaches, I thought about J-Rock Hair-Guy, The Tokyo Tetris, and the heated toilet seat. A cartoon called "
Atashinchi
" had displayed a girl's disppointment at the toilet seat being cold, just that Saturday. She grumbled, looking at the heater settings ("OFF"): "Dad." She knew who had turned her toilet seat off. Well, I didn't know who'd turned mine off. My "family" here is a large, complex room full of important men, or else guys with a lot of hair and designer jeans. They do so much (and/or so little), and are responsible for so many necessary (and/or unnecessary) things that they have no time for toilet seat heat preference. They like it neither hot nor cold. It's just that there's a little semi-mathematical riddle that governs preference in this case:
when the seat is hot, it is very very hot; when it is cold, it is very very cold
. Either one is a shock and a disappointment. If you sit on the seat and it is hot, you reach for the controls, and turn it all the way down. If it is dead cold, you reach for the controls and turn it all the way up. It takes a while to heat up, so of course turning it all the way up is the best immediate course of action. You send it racing for the top, living like a plastic superstar. Before it can burn you, you're washing your hands. Ten minutes pass. The next person to sit on it gets scorched, and turns it down. It takes a while to cool down. Before they're left in the cold, they're up and pouring themselves a cup of coffee. You see where this is going:
Moderation. Nothing in excess. Et cetera.
No matter what we make, where we go, and who we become, no matter what wonders man breathes life (or purpose) into, all we can achieve is to provide new, specific, fetishistic examples of ancient corollaries. It's kind of depressing. I'd even call it heartbreaking. That's what we set ourselves up for, again and again. Getting our hearts broken by numbers. Again and again. That's what we do. That's horrible. That's terrible. It's funny. It's really something.
OH MY GOD I"M TOTALLY IN KOREA RIGHT NOW!!!!!1!!!111!!!11111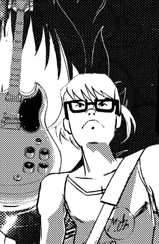 And I was there. I wrote it up for
Lik-Sang
, who are kind enough to host this luke-warm website and up my FTP by gigabytes whenever they need me to do something. Isn't that kind of . . . nice of me? To allow my FTP to be grossly upsized whenever my hostmasters want me to cover a videogame console launch? I get paid in megabytes here, people, and two nights ago, I
got paid in a thousand
. Click the pic for the same link as the one in the previous sentence. Go ahead, and don't be shy!
I take this moment to thank the photographic skills of
Kappuru
, without whom this article would have been just a collection of videos about screaming, masturbation, and
Rogue Galaxy
. At least his pictures have, you know, some Xbox 360 in them.
I am busy lately. I was supposed to go to Hong Kong next week, and then when Boss — who I was to be translating for — decided he wasn't going, and he asked me, do you want to go, still, anyway? Sit around the hotel room drinking free Cokes? Go out and get yourself a lady? I seesawed my eyebrows a bit and said, "To hell with it. No. I'll stay here." Might turn out to be the best decision of my life. Instead of sitting in a five-star hotel room in Hong Kong in a white bathrobe with a champagne ice bucket on my genitals, high on cough syrup, staring at a blank television screen, I'll be here, in the office, the Boss on holiday, spinning around in a swivel-chair, and at the end of the day, I'll still have
Rogue Galaxy
. Let me tell you about that game — it's great shit. I mean, it's really good. The places I can go and the things I can see in that game are as varied as a cucumber is different from a lasergun. There are jungles and spaceships, pirates and robots, aliens and guys with shark faces for heads. There's a hell of a lot of action, and I'll be damned if that game isn't hard as
shit
. I mean, in
Dragon Quest VIII
you can get lost in the overworld and feel like you're running out of potions; always there's that "Zoom" option to go back to a town. In
Rogue Galaxy
you get sucked into these
cavernous
dungeons, with only the save points (which let you warp back to town, or another part of the dungeon) to guide you. If you wander too far from a save point (in the name of actually progressing through the dungeon), you risk getting the shit kicked out of you by a party of six giant robotic fucking creepy spiders. It's a hair-raising experience. And it's never cloying. It never laughs at you or rolls its eyes at you. I have logged a good thirty-something hours. I think I've almost beat it, though I reckon there's one of those endless dungeons, and if any game has ever inspired me to
want
to enter (and eventually
beat
) an endless dungeon (if it's
possible
to beat it), this is it.
Anyway, I am moving soon. Either to Nakano, Sangenjaya, or Tawaramachi. This week's paycheck will seal the deal: I will look at the ATM terminal screen in the AMPM at Aoyama Icchoume Station, and say, "Yes, it is time to finish living like this." It's kind of a sad, fatalistic way of thinking about it: the horrible life I've lived for four years, this life that hurts every part of my body, though I don't ever ask others for pity or myself for shame, is about to be dead and done. I thank you all for cooperating with me while I walked the edge of sanity.
It was brought up the other day by my guitarist and hetero life-mate Drew Cosner that, while he does not plan
anything
for
shit
, I plan things a
hell
of a lot less than he does. You can read about Mr. Cosner's on-knees-blubbering and near-death-shame at not having a place to sleep for
one
(snowy) night in March of 2005, in my gonzo-journalist novel "The Most Gorgeous Situation in Korea," available for just two dollars' PayPal to tim@insertcredit.com. You can
feel
how, though I'm more of a reckless sort than he is, I'm also . . . accustomed to not having comfort. I guess the desire for comfort has bled out of me these past few years. Though I wonder, does that make me less, or more appreciative of comfort? I thank people with words when they offer me their sofas, and I always feel so shallow, both for using words to express appreciation for one of life's granted things, and for having neither having nor wanting a sofa of my own. Outside, the wind blows, warm, cold, or somewhere in between, and it touches my skin and turns me into a ghost. I don't plan anything because I can't plan which way and how coldly the wind is going to blow. One could say I exert no control over my own life because I'm
such
a control freak that I stopped trying to control anything when I realized I can't control
everything
.
Yet, ever since beginning this trial we call daily working, ever since the first day I came into this office and signed that contract with my salary written in big red letters, ever since I started drinking tea and having conversation daily with an honest-to-goodness
secretary in a giant office building in the world's largest city
, just as the tunnels, corridors, and backstreets of this city have, amazing to me, lit up their signs and shown me things that I am able to accept, things I never noticed until now, my built-in GPS sensor has started to show me red lines, tracking backward from the distant future, representing the elaborate, painstaking plans I have made for everything, without knowing it. The life I'd wanted as a nine-year-old who wrote a novel about robots and spies, or even as a five-year-old who got touted on TV for being the "Smartest Kid to Ever Live in Kansas" — it isn't gone. It's just, kind of, patiently waiting beyond this brick wall I had been climbing with my bare, nailless fingers for a few years. I'm taken to bouts of extremity, I suppose, and I don't care about myself, nor do I have any real respect for anything. I enjoy myself when I'm not thinking about anything, and I think about music because I honestly have no other idea what I
should
do with my time. In surmounting the brick wall and viewing that on the other side there is nothing, just as there is nothing on the side I originated from, I have decided to go ahead and live in the nothingness of the other side, anyway, just because it's different from what I've grown used to, even if I can't see, or hear, or
feel
why. Not one footstep toward the new, empty horizon, those lines I'd drawn in the back of my brain back before I stopped talking to people and screwed myself away from the world — I thought that had ended when I was seventeen — everything lights up. How much is possible, then? A great deal more than I expected. How much is impossible? Not as much as I thought.
Needless to say, there do indeed exist impossible things to me, in this world. I will gladly ignore all of them.
Going to work every day is a chore. I have to either walk twenty minutes from one person's house to a train station of nightmares, or else walk fifteen minutes to a place where the train is shoulder-to-shoulder, nose-to-back-of-head with morning commuters, and then change two stops later to another train of similar people-density, and then change
again
fifteen minutes after that, where I stand up, knees buckling, for a half an hour. This is one of those alleyways I'd never been down until I started doing what — well, what I'm doing right now. They tell you about the morning commute in this country. I mean, I'd seen it before. Years ago. It's just that I've been revirginized these past years, never waking up before noon or boarding a train before three. I am amazingly amazable, and amazed again.
I want an apartment close to a train station.
I think that's my biggest concern. Close to a train station, hopefully, that has a
Saizeriya
realy close by. And hopefully a Seiyu grocery store within close walking distance. I wouldn't mind it if I lived in a building over a Saizeriya, facing a Tokyo Metro Marunouchi Line entrance, with a Seiyu just around the corner. I can think of few things that would make me more comfortable. Well, I mean, it would help if the apartment had wood flooring (as opposed to carpet or tatami floor) and a kitchen where I can at least extend my arms. And the bath and toilet in seperate rooms, not all stuck together. That's all I want. I'll get a futon, and a television, and . . . at least not now, I can't think of what else I'll need in there. I've never faced this before. I had an apartment for two months last year, and seeing as I shared it with three other people, I might as well have been still living on the street. I never unpacked my suitcase. I've studied — in the back of my brain — the ramifications of this for a little more than a year. Why didn't I unpack the suitcase? I have an answer I will not speak. At any rate, that suitcase still sits in the closet where I put it originally. I will, hopefully this week, go back there to claim it. I have mentally prepared myself — been doing it for a while now — to
open
the suitcase this time, and put all of its contents away in my closet. I will then plug my guitar amp in, restring my Telecaster (I've been meaning to do this for like a week now — my fingertips are red with rust; I'd have done it already if just
one
of the damn strings would break; I've honestly never
hoped
for strings to break before), and spend my nights the way I've always wanted to. You boil some water, make a cup of tea, and sit on the floor playing videogames under a blanket on a muted television, warming the hands on the tea when necessary, playing guitar between all the little pauses. Headphones and everything. To me, it sounds almost romantic. I'd prefer — and I
do
prefer — that I be alone when I do this. There's nothing wrong with wanting to be alone about something like this. I figure it's perfectly natural. I don't want a girl sitting around telling me what to do, or asking me to take her to a fucking hot spring on New Year's. I mean, I like girls, and I particularly like having sex with them; I even like sitting in restaurants with them, staring at them, making them giggle. I like talking to them about things I should probably talk to a
man
about — you know, things like destiny, and dreams, and rock and roll — and watching them nod and pretend they get it. I met a girl once who
did
get it, and everything that's happened to me since then, if I had to pin it on something, was her fault. She's not around anymore. She caught the bus. I'm alone, and alone in being alone, and I've gotten used to it this way. One by one, my desires have slipped away. All that remains is what crosses my mind every time I think I should look in the mirror (and never do). That is to say, rock and roll. It has not ever gone away.
It was John Lennon who told me, when I was a mere boy, to hide my love away. Why did I use to regard it as a shameful thing, to enjoy rock and roll music as much as I did? I'd never wear a band shirt or anything. I'd wear solid colors. I got to high school and I wore the plainest flannel. Now I feel bold enough to tell people what I like and not apologize for it. I gently hide the fact that I'm slowly growing to hate everything else.
Sambo Master
's frontman Takashi Yamaguchi told me that it wasn't until he stopped thinking about what he wanted to do and attempted to settle down that the Paths to Rock became clear. He was delivering newspapers and living in a one-room apartment in Sugamo, alone at night, when it all started to come into focus for real. I had a literargy agent tell me once that the material of my writing would only become sharper with age and experience, and I took that as kind of an insult. For one thing, I insisted, there was nothing to experience in our boring age of peace. For another thing, if I went out and experienced things in the name of experiencing things, that would only make me a poser. And lastly, films and literature had supplied me with all the inspiration to create false experience that I would ever need. And beyond lastly –
I have a trend I call "Airplane Tickets on Sunday." Basically, it means that all observed trends eventually, periodically, and repeatedly turn suddenly around 180 degrees to spite the trendsetter. I say "Airplane Tickets on Sunday" because Sunday used to be the most expensive day to fly out of and into any airport in the world. The reason for this: airline companies always assumed everyone wanted to fly on Sunday. They'd be coming home on Sunday. Or they'd be setting out on a long vacation on a Sunday afternoon. Well, years passed and everyone knew that airplane tickets were expensive on Sunday, so they stopped buying tickets on Sunday. They started planning their vacations around their airplane tickets, not the other way around. They started taking the day off on Friday, or else taking the day off on Monday. Or working on Monday and starting the vacation on Tuesday. (It says a lot for our world that most travelers are people who are just visiting wherever it is they're going.) Sunday profits dropped. They were sending up empty planes. So the tickets got cheaper. It's currently cheaper to fly anywhere in Asia from Tokyo on a Sunday than it is on a Tuesday. Tuesday used to be the cheapest because everyone — tourists and airlines alike — assumed that no one wanted to go anywhere on a Tuesday.
Well now I find I like Monday mornings. Just as I was shocked in elementary school when I discovered that a Venn Diagram really
can
represent
that much
, I find little statistics showing themselves in odd, enlightening little ways. Take the trains for example. Shoulder-to-shoulder commute five days a week. Only on Monday — that 9:01 train at Minowa Station, the one with passengers holding onto the door frame and stuggling not to fall out when it stops on Tuesday, glides into the station with everyone standing back a good shoulder-width from the door. Things in general are growing clearer to me. Everyone hates Mondays. They're late to the office on Monday. They have trouble dragging themselves out of bed. I wake up an hour early on Monday, these days, and I can't explain it. It's only a matter of time before I find a trend about to turn around, and be the first one to turn it around.
Payday is Thursday. Where to live? Kanamecho seems interesting now; I've got to fight through that. Yurakucho Line. I don't quite want to live out that far. Though it would be one ride straight to Nagatacho. And Kanamecho is the stop right before Ikebukuro, right before everyone and their brother's sister's mother gets on the train. It would be comfortable, at least, to ride that train. I'm only saying this because I just saw a nice apartment there, on this internet search engine. I love the name of that town. It basically means "To-the-point Town." "A town that hits things on the head." More abstractly, "A necessary place," or "Where it all turns around." Sambo Master's drummer lives there. Kama Boiler's guitarist. It's got some rock in it. Washed by the sound of the highway, alone, junction under constant construction, machines making real-life wind every three seconds or so.
And the secretary says, "You shouldn't use these search engines to look for apartments."
I say, "How
should
I do it, then?"
She says, "On your own. By walking around."
I sip my tea and say, "Oh no, my dear, I'm afraid I've done enough of that already."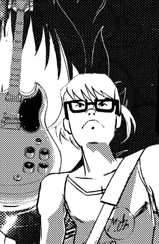 Today is the 25th anniversary of John Lennon's murder, and NHK radio is playing only The Beatles all day.
"We Can Work It Out" just finished playing for the second time in a row.
I wonder if that was intentional.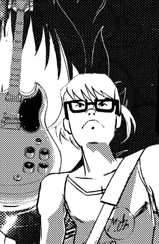 Ladies and gentlemen of the internet, I come to you today with confidence that we here at
largeprimenumbers.com
are and will be the very first to wish you a merry Christmas holiday.

click for the full-sized image.
Ho ho ho indeed.
And yeah, if you want to get yourself the perfect gift,
I think this is all the Christmas list you'll need
.
Yeah, do that 4 hit combo again, Mr. Tim Rogers! Pictured :
Tim Rogers, something of a writer. (this website)
Eiji Morikawa-San, Development Sales Dept. (
Hori Store
)
Ryu Ga Goto Ku (
Sega
) For more pictures :
Click Here