Journal: 11 / 2005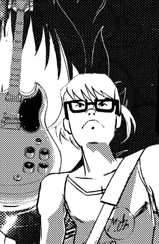 That I've ever been labeled a "journalist" or especially a "videogame journalist" makes me frightfully sad. I'd honestly rather be a rock star. I've heard men scathe at the names of other men because "He thinks he's some kind of rock star!" I heard some journalist guy with bad hair (worse than mine was because mine was horrible because I couldn't do anything about it — he thought
his
looked cool) once yell about Shinji Mikami for wearing a leather jacket. "He thinks he's a rock star. He can't be, though! Because he makes videogames! What a fucking asshole!" was the consensus. Well hell. I've written about this before; it's a subject that nearly fascinates me: men who are not one thing criticizing a man because they think that that man thinks he is the thing that the criticizing men are not. Besides, with rock and roll, it's all in the mind, anyway.
These days, I can only grasp at straws when it comes to rocking and rolling. My friend Francis Franklin Dorstervelt revealed to me this weekend that he'd bought a bass guitar following a side remark I'd made, in which I dared him to "buy a bass guitar, and learn to play it, and join our band. You don't need to be
good
— and that's not because we're not going for quality: you don't need to be good because we
want
someone who's not particularly good. We don't want some wiseguy hamming up the bass. Even I have to decided to let my voice play second fiddle to the guitar." Will Mr. Dorstervelt join the band? I don't know. If he cuts his fingernails down to nothing and starts listening to some good music, maybe he will! Whether he does or not, his confession about bass-owning made me prouder of another human being than I'd been in as long as I can remember. It's all up in the air at the moment, though if he were to join the band, it would feel like fate. I promised our guitarist, whose name be Cosner, that I wouldn't talk about the band on the website, though I figure I might as well talk about us while we're, I don't know, not doing anything.
Anyway, this segues into a little think I was having about sincerity in rock and roll music. Can rock be sincere? I'd like to think that the best rock is sincere. I'd also like to think that — and this is based on my living experience as of late — when people say sincere things, they eventually get tired of saying them. This is why Kurt Cobain is dead; this is why I hold this shuddering fear in my heart that
Sambo Master
, with their songs about erasing human sadness and "starting over," and "forgetting everything,"
might not be around forever
. Meanwhile, insincere music persists, perfects itself, and entertains millions, maybe because, I don't know, it doesn't scare anybody.
I was listening to The Beatles on my newly-swapped-out iPod, on the Ginza Line this morning, and man. Man, what good stuff. This was the first
Anthology
I'm talking about here. That home stretch on disc two: "Can't Buy Me Love," "All My Loving," "You Can't Do That," "And I Love Her," "A Hard Day's Night," "I Wanna Be Your Man," "Long Tall Sally," "Boys" (okay, so that one's not so good) (and neither is) "Shout," "I'll Be Back," "You Know What to Do," and climaxing in "Eight Days a Week." Not a song on there isn't perfect. Maybe the performances are a little muddled, though that's beside the point (and, in the case of the
Anthology
, it
is
the point). I think there are generally two camps when it comes to how people think rock and roll bands should be led. Rather than describe the minute characteristics of those camps, I'll just say that one camp likes the early Beatles, and the other camp likes the late Beatles, or doesn't like The Beatles at all.
The old Beatles are mostly Paul McCartney. If Paul had kept the band reined in and kept control, hell, they'd probably still be playing shows today, like The Rolling Stones. John would still be alive and everything. Much ink has been spilled on this subject, however; I'll try to get to the point.
The early Beatles songs most definitely came out of lyrics. They were written like poetry and then refined. The genre of the final song had, in the case of "All My Loving," "I'll Be Back," and many others had been decided from the outset. In terms of genre, what The Beatles had done was merely pick up all the kinds of music they'd admired and tied them into a bundle. They had the rhythm decided, and the riffs could be formed by expert noodling. The lyrics were insincere (I doubt a single member of the band had yet experienced
that
many one-night stands), crafted firstly to rhyme and sound pretty and secondly to appeal to the darkest corners of those humans who had mistaken insincerity for sincerity.
Sincerity, you see, is animal. It is a lion muzzle-nuzzling its cub; it is a koala cleaning his teeth with his lips. It is something done to a point. It is never exaggerated. It is never unwanted. It doesn't, and can't, cause a nuisance to anybody who can have a nuisance caused to them. Words can't be sincere, on the most basic level, for the same reason objects can't be sincere. Objects don't see dreams; neither do words. Words can only describe them. Find a needle in a record groove, as the turntable spins, as the sound scratches and skips, sincere, consider it love, and though you'll be closer to human than the girls who screamed at Ed Sullivan's sentence fragment and then quieted down once "All My Loving" started, you will still be a few steps from understanding that sincere words are only words that are written on the fringe of the shadow of the truth. Ed Sullivan presented The Beatles to a screaming audience; yet, how sure was he that they
were
"The Beatles"? It was a name they had given themselves. Semantically, it's all downhill from there.
And then there's the internet's favorite adjective, "Pretentious." How many people really know what that
means
, anyway? Is flowery language pretentious? Not always! I think hip nonsense is a thousand times more pretentious than the most concentrated effort to tell your audience how you "feel." Yet not all hip nonsense is pretentious. I propose that Beck and The Pixies are pretentious, whereas The Flaming Lips are not. Beck singing about "Satan Gave Me a Taco," which is a great song, doesn't mean anything. Sure, at the end, it turns out it's all about
a rock and roll video
, and he makes money, and gives it away, and all that, though the first half, about Satan, and the Taco? It doesn't mean anything. The Flaming Lips, on the other hand, will sing about seemingly meaningless stuff, yet it always has a heart in it somewhere. There's always a
reason
.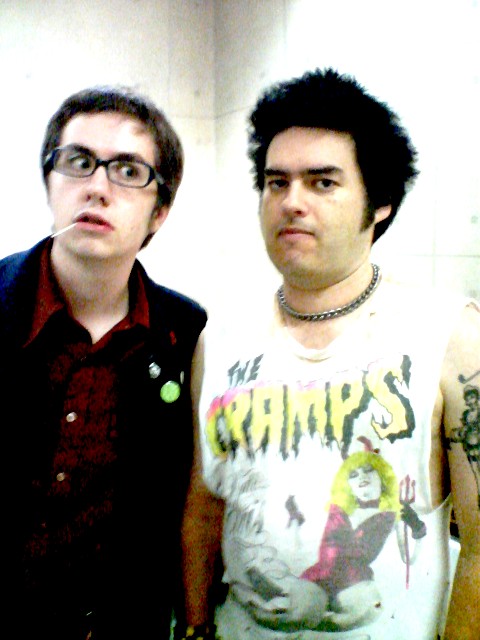 One of my favorite punk bands, a band called NOFX, does this thing live, where they sing a series of short songs. Some of them are "short" as in less than a minute, and some of them are "short" as in one chord and one word. In between these songs, bassist/vocalist Fat Mike asks the audience questions, like "Do any of you guys have some cocaine?" or "Does anyone here have some heroin?" or "Do any of you girls want to have sex after the show?" After the show in Shibuya AX here in Tokyo last Friday night, the catering room was dead empty of girls willing to have sex and/or heroin. Fat Mike was sitting there a dozen beers richer, talking to a large white man about flying car prototypes ("The currently existing one would cost, like, a million dollars
just
to manufacture") and reggae. This makes me wonder about pretentiousness — are NOFX being pretentious when they ask the audience for heroin, as they do at every show?
"I've never done heroin," Fat Mike says. "I just think it's funny."
That NOFX's lyrics tend to be sequences of declarative sentences might be valuable information. They are bastard sons of The early Beatles, is what it boils down to. Their insincerity is unabashed and uncompromising to the point that it's almost pornography. By "pornography," I mean "pornography" in the 1970s American sense, where it was illegal to produce a film that appealed only to "prurient interests," so they made the man a copy-machine-repairman or something. The copy machine that needs to be repaired, in NOFX's case, is a guitar, and the lady boss behind the high mahogany desk is a string of words about drugs that the singer has never taken. Thrown together by circumstance, inputted into the machine of the moment, the output is something hard and fierce that moves the audience on physical levels.
My — and Fat Mike's — favorite of the "short" songs is "Please Stop Fucking My Mom." They didn't do it on Friday night. Darn. It's about as sincere as all the recent songs hating on President Bush, only it doesn't name names, and it might not be true. In the song, the narrator, as nasally voiced by Fat Mike, tells his friend (perhaps he's talking to the pounding drums) that though he didn't mind when this guy fucked his sister, or his girlfriend, he draws the line at his mom. Hence the title: "Please stop fucking my mom." There's certainly a level of emotional sincerity in that, even if it's all bullshit. I deeply respect that song as something of a spiritual successor to The Beatles' "Leave My Kitten Alone." It's . . . kind of the same thing, written in kind of the same way. Fat Mike says all his songs come from phrases, which give birth to melody, and are then plugged into their chosen genre.
What this says for
me
— I've always had a thing about MCing at a show. I don't really like to do it. I prefer not to say anything at all. When I was running a punk rock band up in Saitama, called "Small Prime Numbers," and we played four shows, we did, we started with one hardcore song, after which I grabbed the mike and kicked the stand viciously into the audience. I said, "We are a rock and roll band which is called 'Small Prime Numbers.' Do not forget that name," and the set progressed to its end without interruption. Now I keep thinking, I might as well say
something
. I've seen Sambo Master's Takashi Yamaguchi get all stuttery and psychotic and weepy about his dreams of world peace, and I've heard that Ging Nang Boys bastard drone on and on about specific political matters, and I think I'd like to stand somewhere in the middle. Which I guess would mean being myself: calculating about even my own opinions. I'm the kind of guy to write something like this and subject others to it so that I might help myself, after all. The content of my earlier songs proclaimed no deeper meaning than "The Punk Rock Kick is the Strongest Kick in the World, and Don't You Forget it." So that, at least, needed no introduction. It speaks for itself.
Seeing NOFX on Friday night, while I was in the middle of thinking these thoughts about The Rock Show as an art form, was something of a revelation. Fat Mike's songs, were his words sung clearly enough to be understood in the context of a live show, would need no introduction. NOFX is probably the best punk band in the world (notice I don't say punk-
rock
) in terms of all the subtext that comes with the words "punk band" — the don't-give-a-fuck attitude, the drinking, the silliness, the gayish wrist-flopping on-stage prance-dancing (okay, maybe not that part) — and as such, their music is second to their attitude. I had been growing exhaustedly weary of punk music these past few months. I'd almost hated it. I still kind of do — I hate the majority of punk now, suddenly and violently. I just can't stand it. There was this band called "The Real McKenzies," and they're alright, I guess. We hung out with them a little bit after the show. I almost stole the drummer's groupies, then I ended up offending them by telling them, in Japanese, that they represented failures of their stereotype for settling for the ugliest man to stand on the stage that evening, so they ran back to him. It was amusing. Anyway, this band wore kilts on stage, and even got naked at a point. Why did they do it? Because someone else had done it before. The Real McKenzies play a hard, fierce, nuts rock show, with all the gimmicks in the right places; yet the world these days is immune to gimmicks, mostly, except the ones that work, and The Real McKenzies' fans are their fans; those that listen to their music are confined to the group encompassing those that listen to their music. Paul McKenzie screams like a lion; his inter-song MCing is amusing, yet feels rehearsed. NOFX is so natural that to even think of calling it "natural" is to miss the point. They're lying, and they're posing, yet they are semantically immune to being called "posers" because they're not taking themselves seriously. Every word Fat Mike cracks out, in every syllable, has the tone of a kid speaking an entire sentence and then screaming "PSYCH!!" at the end. I enjoyed their show as much as I did because I knew how hard it was — in some cases, damn near impossible — to be an interesting human being in a world full of human beings who have seen plenty of human beings already before.
I wanted to ask Fat Mike, after the show, and I'm not sure it would have been a question, "You know, I've wanted to see you guys live for
years
. Yet, now that I finally get the chance, I find myself dead-tired of this kind of music. I used to sing songs like you guys sing, and I used to not care about what I was saying or anything, and I somehow got tired of it. That you guys have stuck with it for so long is either a testament to your love of the music, a mental
tenacity
that prevents you from getting tired of the thing that brings you adoration and money, or . . . or, what, what do you think?" Before I could ask Fat Mike such a question, before I could begin our
scheduled interview
, he asked me, in the quietest, somberest, drunkest drawl, "Who are you guys?" And then narrowed his eyes at me. "Who are you?" I said, "I'm just a guy, man." He went pale. He opened his mouth, and closed it, like a drunk. He said, "Shit, man, I know you." Then he went on: "You know who we played with last time we were in Tokyo and we played this Shibuya AX right here I'll give you a hint?" He then started chugging on an air guitar and letting out this wail. "You ever heard
that
shit?" I told him . . . well, I don't know
what
I told him.
The rest is history.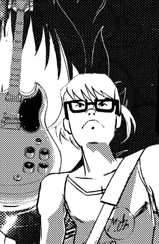 I just wrote this essay. I could have written it on the bus. Who knows? It's called "state of tokyo toilet, 2005." You might like it. You might not. It's about toilets in Tokyo. Here's a short excerpt, and by short, I mean one sentence: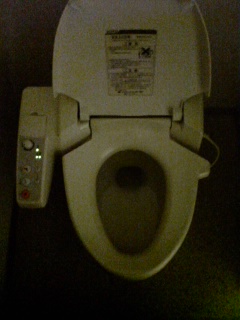 "It had been a psychological accident of self-maintenence."
I think we're finished with this one, then. See you all tomorrow.
Ahem. My real article on life, tokyo, the universe, and everything (not the least of which is Nakano-chome) is going to here in several days, otherwise I don't get class credit. It's going to be the longest article I've ever written, which is to say: about 1/4th of any of 108's posts. However, until then, amuse yourself with this video of my roommate, Yukiko, failing at
Super Mario Korekushon
for the SuFami, and rest easy knowing that not every person of asian descent will beat you at videogames.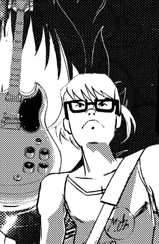 This week's
Famitsu
newsbites, days before everyone else gets them! Don't ask how or why, just ask
what
, and
click
!
. . . It's funny. You know, one website, and then another, asked me if I would write them a weekly "Famitsu roundup," and I was kind of upset by the idea. They wanted cut-and-dry translations of what Famitsu had to say. I didn't do it because I figured I'd just write things and then they'd tell me that I was too late, and Gamespot got there first, and my news was now worthless. That's how news goes; or, I suppose, that's how getting
paid
for news goes. Well, now I find myself in possession of the new Famitsu two days before it reaches the newsstands, so I'll go ahead and post this. And then make some udon. Link is in the above paragraph. With the way this computer is running today, I wouldn't dare try to type the link again.
Goodnight!