Journal: 09 / 2005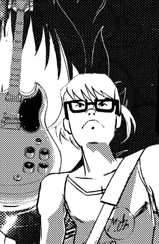 Yes, it's true. I got a new cellular phone. It's
this one
. There are three color schemes available. I leave it for you, the readers of this website, to tell me which one I bought. As in, which one I bought because the other ones suck. As in, which one was sold out
everywhere
except, well, the one place I found it, which had just one left in stock.
Go ahead, tell me!
It's been a long time since I bought a cellular phone. Years, even. If you recall, I lost my old cellular phone after being banged in the back with a bathroom door at a punk-rock club in Shinjuku; ever the fan of delayed gratification, I was using the phone to fire off an email before letting out a geyser of urine, and the bang in the back with the door loosened my digits and sent the phone dropping into the toilet, where it immediately died. I was told I'd need to spend 38,000 yen to get a new phone, and that's like four hundred bucks.
So yesterday I pulled up my pants really high, pulled my belt too tight, and walked into a phone shop, where I confidently declared, like a yakuza, "
I'm here to buy a cellular phone.
" ("?????????." It's all in the tone of voice.) The guy was like, what phone? I told him, I want the AU Sony-Ericsson W32S motherfucker. He said, okay, which color. And I said,
YOU TELL ME WHICH COLOR
. He knew what I was driving at. The thing about this phone is that at every cellphone shop in Japan, it's 16,900 yen. At all of the underground places and duty-free shops, it has no price-tag. It just says "ask the staff for a price quote." Or sometimes it says, "We'll make it cheap!" ("????????") I went into one of the "We'll make it cheap!" shops. I said to him, "You're going to make it cheap?" And he just nodded and said, "Yeah." He sold it to me for 4,900 yen, which is a hell of a lot lower than I expected it to be. I mean, I would have been happy getting it for 8,000.
Anyway, about the phone. I was
going
to get the DoCoMo Foma 901iS, which has a four-megapixel camera, though the flimsy sliding design made me hesitate. That, and do I
really
need four megapixels? Also, the buttons feel like they're going to break my fingernails, and the interface is that same clunky 1970s stereo-instruction-manual bullshit they've been using since the monochrome screen era. So I went for the Sony Ericsson, which ended up being one-ninth the price, and has a two-megapixel camera, which I guess is good enough. I always end up resizing photos that I take, anyway.
Though it lacks the scroll wheel of its earlier generations, it has a curious eight-direction pad, and lights up the most groovy, laser-fine color when its dark. It has two speakers on its back side, and boasts that they are indeed the best speakers ever to grace a mobile phone. It has a slick little window in the front, which most phones have yet seldom use, where I can actually read the entire contents of an email, when it arrives, without having to open the phone.
The operating system is the same as on a 2.0 Sony PSP, which is nice, because that's a simple enough operating system, especially suited to phones. Virtually anything is a keypress away, and I'm delighted that the character-set-switching during email composition can be done without a pop-up console: it has a devoted button now. Speaking of email, in true Sony Ericsson AU fashion, I can write up to 10,000 Japanese characters in one message, and lord knows when I'm emailing a girl about my penis or receiving emails from this girl about her vagina (though I prefer her to email me about my penis, as long as she doesn't lay on the size praise too thickly), I can use a third of that. I wrote a novel with an older Sony-Ericsson phone, one with an immaculate scroll-wheel. Oh lord, I loved it. It was my favorite thing to do on the train.
So yeah, all the immaculate interface of that phone, plus a few huge extras, such as: television! AM/FM/TV radio! A 45.5MB data folder for storing dinky photos (the older phone only gave a tiny four megabytes, so hey) and . . . and . . . and . . .
Memory Stick Duo Pro
! Little did I realize (until I showed my phone to the miniboss yesterday and said it had a Memory Stick slot), working for Sony nets me free Memory Sticks, so hell yeah on that one. This phone can handle up to the 2GB stick, which is just too much. I'm finally getting my white PSP next week, and a 2GB stick with it, which would cost a hell of a lot were I to, you know, actually pay for it.
Thanks to the Memory Stick slot, we have what has been, for years, an excellent phone, made more excellent. 2005's Sony-Ericsson W31S, the predecessor to my phone (which just went on sale late last week) had a shoddy sliding design and a flimsy camera lens cover that bruised fingertips. It was also fat and clunky. Well, the revision goes back to the flip-out configuration, and I love it for that. The screen is every bit as high-resolution as the W31S, only with buttons a hundred times more pushable. I'd actually been considering buying the W31S, only to hear tell of the W32S's coming to swoop down and conquer, and there it did, at the eleventh hour, just when I was at my wit's end and ready to buy the first cellular phone to show me some leg.
I am content with my purchase.
NOW ONTO MORE CURIOUS THINGS
Yes, still related to the phone: it has
Ridge Racer
on it!
Why, I don't know, though hey, it's
Ridge Racer
! It's in 3D! And you can kind of play it!
There's also
Ace Combat
, though it's been reduced to moving a little plane around a grid — kind of like "Battleship!" without the water — so hell if I'd want to play that.
Anyway, I believe I once said that mobile games can suck my sack. Well. Okay. I guess, now that I have a nice screen and a phone that feels a little more than alright, I can see where and how mobile games can be groovy.
And then there's the weirdest thing — in the issue of
Famitsu
three weeks ago, there was a pull-out insert on mobile gaming, that had their classic reviews (minus scores, cleverly) for all of the most popular mobile games. Located next to each capsule review was a tiny QR code — these new index codes of sorts: commonly mistaken for "bar codes" by the uneducated, the QR code is a dot graph that allows information, sometimes complete sentences of information, to be encoded into a square as big or as small as you want it to be. There are some giant billboards with QR codes, all scannable from whatever distance by using your cellular phone's reader and the camera zoom function. It's clever, though hell if I've never found one that actually says anything I care to read.
At any rate, there are QR codes by these capsule reviews in
Famitsu
, and I realize that by scanning one with
my
phone, I will be prompted to open an internet page where I will proceed to download the game.
Isn't that miraculous? I guess I'll check out
Dragon Quest
on the phone, maybe. The sound quality sure is high, and hey, it's only 315 yen. (That's like three dollars.)
Also, regarding the Memory Stick — reading through my instruction manual here, it seems that Sony Ericsoon has gotten entrepreneurial and is allowing people to use their own MP3s as ringtones without charging any extra fee. That sounds kind of entertaining. I'll have to try that out.
IN CLOSING, A PARTY
This is to be my first in-closing of the afternoon. The next one will come after this.
Last night "My Company" held a little party in an
izakaya
in Akasaka-Mitsuke. Don't worry if you don't know what three of those last four words mean. Akasaka-Mitsuke is a big town where rich people cavort, work, play, and eat at Japan's most trendy Subway. It is a city of backstreets, with a big fat slice of Tokyo Highway Route 246 (and hence,
Gran Turismo
) cutting right through the middle of it. It's a nice town, as far as towns go.
Anyway, there was a party, and I was invited, of course, for twenty people of a certain persuasion. I sat in the party, drinking Coca-Cola when everyone else drank beer, and no one, particularly, bothered me about it. I ate tofu while they ate tofu with . . . meat. So me and the other nineteen guests weren't having too different expereinces.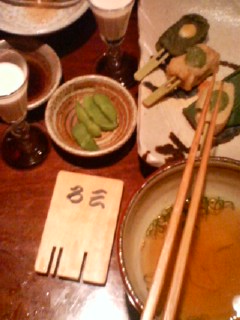 Let me tell you about that place. Man, it was fancy. It was some fancy stuff. It was like the place all the gang bosses get together to have a party in a yakuza movie, shoes off and everything. Moody red lighting, wooden ceiling not more than seven feet high; we sat in a long bunker that accommodated our party and plenty of knees and elbows. The staff was foot-fast like kabuki theater stage crew, and the menu didn't have any prices on it. The Company was paying.
The president gave a speech at the beginning. He said, "We were supposed to have
shabu-shabu
tonight. Though since ________-san, the one who wanted to eat
shabu-shabu
the most, couldn't make it, we decided on tofu at the last minute. ________-san called me this afternoon, and said, out of the blue, '
Shabu-shabu
's no good for tonight.' And I said, 'Why?' And he said, 'I can't make it.' And I said, 'Why not?' And he said, 'Five people died.'"
Uproarious laughter all around. The president quiets the gaggle, and says,
"Then he told me, 'Anyway, I'll explain later. Why don't you have tofu instead? I'll fax you a map to a good place.' And here we are!"
And then there was a
kanpai
, me with a shot glass of soy milk, everyone else with sake. The meal began.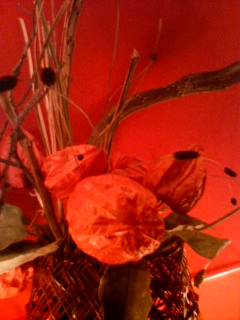 Some guy asked me, "Have you ever been shot before?"
"Like, with a gun?"
"Yeah."
"Nope."
"Oh, well. I have."
I tell you, the Japanese games industry is more dangerous than I thought.
In closing,
if you'd like to email me at my new cellular phone, I'll have you know that the address is the same as the address of the old one, only with an "x" right before the "@." If you email me nonsense, I will be upset, unless it is entertaining nonsense, in which case I'll be entertained, and then upset.
Right now, I'm free, so I'm going to go to Tawaramachi, where I'm planning to get an apartment soon, to look over some things, and then sit in the
Saizeriya
there while I wait for something interesting to happen. Most likely, I'll end up pouring a glass of Coke out on the table in honor of my good friend Matt, who's still in Washington, DC, yet will be back in Tokyo, with any luck, really soon.
Dream the dream, son!! Dream it!!
I'm getting out of here, then.
After this last note — you know, whenever I upload files to my cPanel thing, I always, always have to check the "overwrite existing files" box, whether there are any files in the directory with the same name or not. It's a little weird. I'm not actually overwriting, yet clicking the box makes me think, "too bad for those existing files with the same name." I wonder what would happen, though, if I really
was
overwriting files? Would the system prompt me, "Hey, I know I kind of make you say you're willing to overwrite files every time you're uploading files, even though you're not really overwriting files, and I feel like kind of a jerk for desensitising you to the cruelties of this data-eat-data world, though, uh, this time, if you click the 'OK' box right here, you're really, actually going to be overwriting some files, one of which is like, forty-five megabytes? Is that OK?"
It wouldn't be a blog if it didn't have random bitching.
My new job is time consuming as fuck. I get paid well, but it's cutting into all kinds of time that I should be using to further my pipe dream of being an actual, paid game-playing-reviewer-person-thingie.
I miss my pipe dream. Especially when these events rear their heads now and then to remind me that hey, you could in fact be doing this as a full time thing if you weren't such a goddamn pussy about it.
I'm supposed to be, as I type this, working on a book deal with the man, the legend Lawrence Wright (aka neogeoman) and God Motherfucking Dammit if I'm not too burnt out at the end of the day to do anything about it.
The hell.
So what do I do, Internet Denizens? Do I tell my current, real job to go cram it and chase my star, or do I make the rent payment this month in exchange for the slow death of a chunk of my soul? That sounds lopsided, but souls are cheap and rent is not. That's actually a pretty good deal.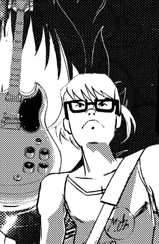 Final Fantasy VII
was released by Squaresoft, before they became Square-Enix, in 1997, and it was heralded from that day even until today as a legendary piece of software. Like it or not, you have to admit, as I do, that it is "The most important videogame Square would ever make." In my review, which is a companion to the
Project FFDog V Video Feature
on insertcredit.com, I award it four stars despite the most horrible of its flaws as they are visible today, I say:



: Final Fantasy VI
had aspired to be like a modern opera, because its fans were the kinds of people who would shed tears to midi music;
Final Fantasy VIII
would take the
Final Fantasy
series's penchant for constant reinvention of situation, world, system, and character and run it into the ground spectacularly; between these two noteworthiest of videogames, Square attained pop nirvana in a game that instantly became both a cult smash and a worldwide craze. In its setting and its story, it tears handfuls of superfluous pages out of everything else that was popular at the time of its creation, and it weaves a tale not unlike a Japanese samurai fiction bled into a spaghetti western sitting on top of a pile of dystopian science-fiction. Looked at from the top down, it is a big, unwieldy, burlap sack of hot genius parts. Booted up from the beginning, it's a game with a hell of a beginning.
Yes, this means that Project FFDog: Volume Five is now available for download over at
insertcredit.com
.
You can view it
here
.
Some say it's the best FFDog ever. Though I see it, and say — I can do better. We can all do better. I have plans underway now that will result in at least the most
important
FFDog of all time. And then, next time I go to Indianapolis, Doug Jones and I
will
FFDog
Final Fantasy VIII
. You have all been warned! It
will
happen this time.
What say you, Jones? Can you spare a night around Christmas time? I hope to see that your large baby has grown even larger. If she's just a centimeter smaller, I'll have to flail my arms around in a hissy fit.
Anyway, boys and women, let me know what you think of the work. Your compliments, as always, are appreciated. It makes me feel good about myself, and if you think that's a bad thing, well shit, man, you must have never been me before.
My next trick
will
be "The Most Gorgeous Situation in Korea." Keep your threat-mails coming!
In what is probably the most ironic twist I have ever encountered in my entire life, the Windy City is actually very Windy. Right now, I'm sitting at a computer that doesn't belong to me in a library that belongs to the school I go to. The keyboard is very nice.
That's right, folks, Wayne has hit Chicago, and it looks like I'm going to be here for a while. The plane ride, as usual, was terrible. I thought I was fortunate to have an aisle seat: easy access to the bathroom. Of course, that meant that the fat, balding man next to me didn't. And apparently he had some kind of bowel syndrome, because he kept waking me up to get out of his seat.
"Do you want to switch seats?" I offered.
"No, it's fine, you can just stay where you are."
So much for that plan. Picture the scene, if you will. The business class section (I had gotten bumped up to business, another sign which I took as a favorable omen) of a Boeing 747 has a seat arrangement of 2-3-2. That means there are two seats on the left, three in the middle, and two on the right. I was on the aisle seat on the right, which meant that fat bald man was on my immediate right. Across the aisle, to the left, were two parents with their only child.
As befitting the stereotype of only children, this boy was whining and cringing the entire way, getting everything he wanted with little resistance from his parents. You would think that would pacify him, just a little. It didn't. It really didn't. Despite the fact that he was getting whatever he wanted, he was always screaming for it, and then screaming for more.
As a result, I was unable to sleep for 48 hours.
The night before I left, I spent the entire night up, anticipating the jet lag. When I got on the plane, it had already been 24 hours. I spent another 13 hours of my life awake on that plane. Then I had to navigate a 6 hour road-trip (which turned out to be a 12 hour road-trip once we got lost) from Chicago to Michigan. 48 hours of consciousness. It feels like too much, really.
Once I get settled in, expect some reviews of old games to start coming in from me. First up: Diablo II: Lord of Destruction. That's the expansion pack to the hit game Diablo II. Look forward to it; look
very
forward to it.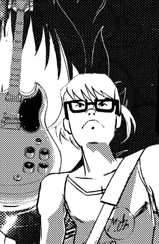 First of all:
Andrew Vestal, thank you for waving to me.
Let's do lunch or something, sometime.
Secondly:
The Nintendo Revolution looks pretty fucking awesome
.
I say this as a man who is tired of videogames, who finds the recent character designs for
Xenosaga III
in
Famitsu
to be indicative of a downward spiral in the whole anime-ish gaming trend. That fucking fat man's fad. That nonsense bullshit. I say, yeah, make people the center of this shit, not make girls with boobs and pink hair piled with jewelry, panties, and machineguns. Let's see . . . I don't know. Let's see something else now. I understood fully, five seconds into the trailer that introduced the controller, where it's all coming from. I realize what they meant when they said the DS was an experiment. I was in the Sony booth — Sony Computer Entertainment, yes, the company I work for — and I saw that they have a "brain training" game for PSP coming soon, and I realize, hell, there's been a hell of a rut lately, these past ten years or so. The Revolution looks like a . . . natural evolution of a videogame. Games were, were they not, originally just something else to do with your television; we have idol-worshipped them long enough. It's nice to see that the Revolution may just be an evolution of the core concept "something else to do with your television." Or something. So yeah, I'm saying I believe.
Now let's see a game on the damned thing.
Lastly,
as regards Konami's Metal Gear Solid 4: Guns of the Patriots trailer
:
IF THOSE GRAPHICS ARE REAL-TIME, I'LL NEVER NEED HELP GETTING IT UP AGAIN.
Kojima, you asked me for a back-of-the-box endorsement. You got it. See you tomorrow!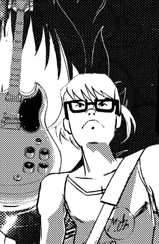 I had too much fun writing this email to not share it with anyone else.
Look:
hello aderack!! if you could, by any chance, get to a gamestop or somewhere before you get on the plane and buy me
this
i would be so grateful i'd . . . well, i'd PAY you for it!!
and if you could get somewhere like best buy and buy
this
well, i'd really appreciate that, too.
and yeah, i'd pay you for it. right out of my pocket, upond delivery, even.
also: as regards the airport operation. you are arriving at 3:40 in the afternoon on monday, yes?
could you cut and paste me your travel itinerary?
i want to know which terminal your plane is landing at. if it's terminal one or two. it makes a difference; they're about a five-minute train ride from one another.
either way, it goes down like this — i have no cellular phone. i won't have one by monday, either. i'll have one when i get all the visa things straightened out. and lord knows when that's going to be.
so the pick-up at the airport needs to be arranged with as much precision as possible. if you can,
-3. email me before you go to the airport, saying, "i'm on the way to the airport."
-2. email me FROM the airport, if possible (I'm pretty sure SFO is Equipped, and free, even) to let me know of any delays/cancellations.
-1. get on the airplane.
0. sleep, if possible. falling asleep slightly before takeoff and waking up a four hours or so before landing is not only the BEST way to complete a trans-Pacific flight, it is also the way that will set you up the best to not be jet-lagged. the jet lag between california and tokyo is, for my money, ten times worse than the lag between the east coast and tokyo. the east coast and tokyo is enough of a difference to make you go, "shit, this is fucked up," and just take it as something that's fucked up. the difference between california and tokyo is potentially mind-bending. it's not as big as the difference between tokyo and new york, though hell if it isn't harsher in its own, subtle way. i'd especially recommend not sleeping the night before you leave, to facilitate sleeping on the plane. if you board the plane dead-tired, more power to you. if you board the plane dead-tired and feel like drinking a coke, drink a coke. the best, most rewarding sleep is the kind of sleep you're prepared to have even after a caffeineated beverage. set yourself up for that kind of sleep, and when you get to tokyo at 3:40 it's going to feel like — well, maybe like just after noon, if you're lucky. that's not so bad.
1. bring a ball point pen on the plane. they most likely won't confiscate it.
2. fill out the immigration card when they give it to you; don't wait for the plane to arrive.
3. don't lag behind when you get out of the plane. keep ahead of everyone else, if you can.
4. get to immigration as quickly as possible. they like eager people. just don't scream or throw anything.
5. if you follow my advice and don't check in any luggage, you can proceed down the stairs and right through the customs without waiting in any other lines.
6. go through the "nothing to declare" line.
7.
*THE IMPORTANT PART*
change your money BEFORE entering the big automatic doors. there should be some bank kiosks along the wall behind customs. just go to one of them, put down as much american money as you're wanting to change, and give them your passport.
8. flash the guy the middle finger.
9. no! don't do that!
10. get your money, and exit the big auto doors. ignore the fuckers standing there with signs, because i'm not one of them. sidestep them and TURN TO THE RIGHT. now just walk to the right; don't get distracted by anything. find an escalator going DOOOWN. it should say "to trains" on it.
11. in the basement, there will be many train ticket gates. ignore all of them except the one you don't ignore!
12. that's the keisei line. it'll say KEISEI LINE and be abbreviated K'SEI. go to the ticket machine and put in three hundred-yen coins. you'll see an option for a 250-yen ticket pop up. buy that.
13. enter the electronic turnstile. now here's the simple part. close to the turnstile will be an escalator. if you have to go to the bathroom, there's a bathroom beyond the escalator, to your left. go to that bathroom if you have to. hell, i'd suggest going even if you don't have to. it's a long train ride, as long as a good movie. so think about that.
14. go back to the escalator, the one closest to the turnstile. board it.
15. you should see me when you get to the bottom.
16. say hello.
17. give me my $500, as promised.
i'll be there from 4:15 (no way in HELL you're getting through immigration/taxi quicker than that (narita is a big airport, with two dozen runways, you need to take a train just to get out of the airplane, et cetera)) to, well, whenever you get there. well, here's the deal — if you're not there by SIX-THIRTY and i didn't receive a "the flight is delayed" email by monday morning (assume, after sending me the delayed flight's schedule, that i'll be waiting for three hours and twenty minutes on that bench after your corrected time of arrival), i'm going to get on the train and get to ueno. you are advised to, should you arrive on the platform after six o'clock, make a phone call from the payphones in the center of the platform.
the number is 090-****-**** keep that number somewhere prominent. the person you're calling is a woman named _____ ________. she speaks enough english to know what you're saying, and even reply with words you'll understand. so it's a win-win situation. tell her exactly where you are, even though she'll be expecting you to be exactly where you are. she'll give you some instructions and ask you a few simple questions. answer them, hang up, and then get on the next keisei train to ueno. i'll find you before you get off the train.
a morbid part of me hopes this scenario happens, so i can find you while you're on the train and you'll ask me "how the FUCK did you do that?" and i'll say don't worry about it — it's what i do.
the next scenario is — you get to the platform early. this is an easy one. sit on the bench and wait. i'll be there. if, by some bizarre fit of winds, you end up there at around three PM — well, sorry. just wait until four-fifteen, when i arrive. as the train pulls in, you'll see me sitting facing the platform. stand up and wave to me. then get in the train and sit down. we don't want to sacrifice our seats.
the next scenario is — you get to the platform between four-fifteen and six, and i'm not there. in this case, you sit down and know that i'll be there shortly. maybe i'm in the bathroom or something.
still, though. if worse comes to worst, say, if the plane gets delayed in mid-flight (these long flights have a tendency to do that) and you get on the ground at eight-something and ___ isn't answering her phone — just get to ueno. exit the keisei station and work your way northeast (if you have a compass, you might appreciate having one in tokyo — just a little compass will do. no street names and such.) to a large clearing and a giant train bridge. enter the station through the main entrance, in the middle of a plaza. get inside. as this IS the worst-case scenario, it'll probably be raining. this call uta again from inside the plaza. dig the german architecture. yes, that's some meis van der rohe, there. it's been buried by all kinds of modernisms, though, sadly. for example!! the hard rock cafe!! which is as good a landmark for you to find as any. from there you should be able to see a statue of a naked woman holding her arms up. that's the "winged" statue. go stand by that. sit down if you want. if the cops come by and tell you to stand, stand.
ACTUALLY. ___ just told me she'll loan me her phone on monday. so there you go. if you call that number, you're calling me. i live not a five-minute subway ride from ueno, so you won't be waiting long. if you're waiting at all. i'll have an umbrella and we can walk to akihabara and get something to eat.
so . . . yeah. i think that's everything.
"FROM HELL" is on tv, dubbed in japanese.
JOHNNY DEPP STARRING JOHNNY DEPP JOHNNY DEPP STARRING JOHNNY DEPP JOHNNY DEPP STARRING JOHNNY DEPP JOHNNY DEPP STARRING JOHNNY DEPP JOHNNY DEPP STARRING JOHNNY DEPP JOHNNY DEPP STARRING JOHNNY DEPP JOHNNY DEPP STARRING JOHNNY DEPP JOHNNY DEPP STARRING JOHNNY DEPP JOHNNY DEPP STARRING JOHNNY DEPP JOHNNY DEPP STARRING JOHNNY DEPP JOHNNY DEPP STARRING JOHNNY DEPP JOHNNY DEPP STARRING JOHNNY DEPP
what's with JD playing period-piece detectives in grotesque murder stories?
they should make a jojo's bizarre adventure movie and have him play joseph joestar.
which would also result in him facing jack the ripper. which would be really cool.
hell, that's a good idea.
—
www.largeprimenumbers.com
www.insertcredit.com
—
"Wu wrote in his commentary, 'White 108 was an extremely difficult play. One waited with not a little dread to see where it would fall.'"
And that's about that.
I'm playing
Tales of Legendia
now. I hear there are only three towns in the whole game. That sounds kind of shitty. My friend Amazawa-san, who wrote that
Tsukiyo ni saraba
review, told me so. The game is kind of interesting, though, as an RPG. It seems, so far, these first eight hours or so, to be of remarkably narrow scope. It's a very personal story. It's got lots of traveling and dungeon hacking and monster-fighting and stat-building and sandwich-stacking (a
Tales
staple), though it's also got a really odd tone. I do reckon to say that it looks, at this moment, like it might turn out to be a Significant RPG. When was the last time we had a Significant RPG? Hell. I can't even remember.
Skies of Arcadia
? Well, no —
Dragon Quest VIII
. Before that was
Skies of Arcadia
.
Legendia
, so far, is pulling off many of the things
Romancing SaGa
has always been trying to do, with queer little disconnects between player and game, seemingly acting of its own mind. That it has a party that will not change (so I hear) and only three towns, and a length of forty hours, and no side-quests . . . is kind of interesting. So far, I'm really getting a
Final Fantasy IV
vibe out of it. The
Tales
producers have shoveled proverbial snow for a decade, and now they find they have some muscles where they didn't have muscles before. It's a very carefully made game. I am liking it. Maybe I'll write a review of it, maybe I won't.
It's a lot better than
Grandia III
, so far. That game went downhill fast. I wrote a review of that one. Two stars. Maybe I'll put it up. It might work.
Just not now. Now, I'm going to sleep.
Yes.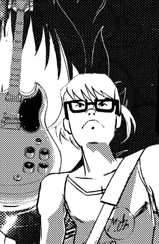 I bet you didn't even know Square-Enix and Media.Vision (makers of
Wild Arms
!) had
made
a role-playing about duelling giant robots armed with electric guitars in a future where robots punch each other on television all day, every day, did you? So of course you didn't know that Sex Machineguns did the soundtrack, or that Harold Sakuishi (of
Beck
fame) had written the nonsensical story and designed all the characters! Well, don't worry, because the game rather violently sucks
ass
! Even so, there's plenty to read in my review, about reformed Russian hookers and other fun things to do at two in the morning in Tokyo. Behold: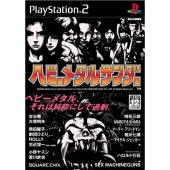 1/2:
When Sakuishi tries to populate a story of giant robot battling in the future with his rather shoddy drawings and only the most bizarre of his characters, it ends up feeling like that one bar ten miles up the highway from a town with fifty bars, all wiped out by a hurricane. In the wake of disaster, everyone needs something to drink, and they all find themselves somewhere they never thought they'd be.

And then someone puts Megadeth on the jukebox and a fight breaks out
.
I'm going to go take a shower, and then make some yakisoba. I think I'll write something in here tomorrow. Though hey, that review right there — it's a masterpiece. Reminds me of my
Yoshinoya: The Videogame
review, which I also just pulled out of my ass, sat back, sipped a Coke (Bubbleman Grape soda, in this case — only 166 yen at the local Olympic), and said, "There it be."
Be sure to check out Wayne's latest review, too.
God damn it I'm hungry. Why does this whole town smell like
oden
all of a sudden? I hate
oden
. Never touch the stuff. Yet even so. When a town smells like food, no matter what the food is, it makes you hungry.
Will update later with tales of racism against me, searching for an apartment, and why I
must
live near a Saizeriya, soon.
So, I finally decided to get off my ass and write a review for a game. In fact, I decided to get off my ass and write a review for two games. It's really quite… daring, you see. When you haven't eaten solid food for two weeks, you learn to take risks.




/


:
Face-to-face communication. The head engineer of the Korean videogame company GP says the best multiplayer experiences result from face-to-face communication. Sure, Xbox Live has a wireless headset so that you can talk directly to people you??e playing with in Halo 2, but there?? still an awareness of distance on both sides of the conversation. Real, live communication between people is what is important.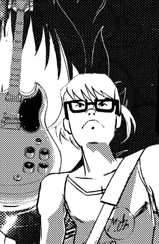 CIALIS PEDDLERS OF THE WORLD, I IMPLORE YOU: WHAT EVER AM I TO DO WITH A THIRTY-SIX-HOUR ERECTION?
Someone link that livejournal post where I argued with the pornspambot.
I am hard at work slaving away to bring FFDog V to your very eyes. We suffered a setback what was called losing the video feature index, though I'm fixing it now, by rewriting it. At least I didn't lose the header. The header is everything. That header is a gold mine. It's the best header we've ever done at insertcredit; I'd feared I'd lost it when my computer died. Well, no, I haven't. Lord bless us all. You're going to love it.
Or maybe I've just gone and built it up too much.
What was that you said? It's time to go to sleep? Sleep blest by pillow (hello, pillow!) and blanket (good evening, blanket!)? Well, perhaps I will in a minute.
I'm still trying to scrape the Korea out of me. It's coming out in odd little spurts. This week seemed like forever. The last time I was there, I spent five days, and we had ourselves a gorgeous situation or two (the tale of that, truly, is coming soon — keep
paypalling
, ladies and gentlemen), and hell if that five days didn't feel like fifteen. This most recent seven felt like seven years. I came back to Japan on a rainy, misty night exhausted, and when at last I awoke from a groggy, wet train-sleep and was dumped out into the streets of Ueno, I beheld the place like it was something from a dream. I walked its streets with my too-heavy backpack on my arms, weary from travel, and I . . . I don't know what I did. I sat around in a room, in a kimono, drinking Grape Fantam, detoxifying myself. I have a little more money than I did when I went, and I have to buy a laptop soon for various reasons. So I need more money. They told me today I couldn't get a phone yet. I guess I'll get one later. I kind of want a Nintendo DS, too. Aderack is coming to Tokyo, and I think he wants to buy a red DS, which you can only get in Japan, so how about this — Aderack, you can buy your DS at the new Yodobashi Camera store in Akihabara, which will be the world's largest electronics store, when it opens on September 14th. And you can buy it on
my
point card. And then . . . well, I can buy a DS with that point card, and save
big money
. What do you say to
that
? Good idea, jeh?!
That's a hell of a plan.
Still trying to work out if it's in the least unfair to anyone. I'm sure it's not. Hell, what will I do if it isn't? It'd just be so out of character.
Oh yeah, Sketch Panic — did you get your money? Because you should have!!